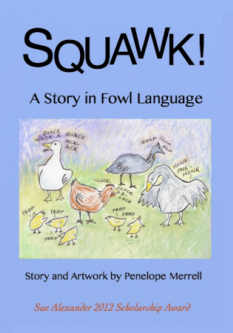 Squawk! is a children's book by artist and writer Penelope Merrell.
An adventuresome chick falls into a hole and the barnyard fowl come to the rescue – a story told in images with no human language.
Sue Alexander 2012 Scholarship Award
Society of Children's Books / Writers and Illustrators of Southern California
"The fowl language used fully conveys the range of the fowl language that is in current usage."
-Friends & Fanciers of Farm Fowl, Fall Quarterly Review
Read an excerpt (PDF format)
Read the reviews
Order Squawk! from your favorite bookstore or Amazon.com or CreateSpace.
Note – We encourage our readers to ask local bookstores to order our books, but if you are going to order online, authors make a larger royalty from CreateSpace than from Amazon.
Trade paper $9.99 Amazon.com or CreateSpace
Kindle edition $2.99 Amazon.com
Pages: 40
Publication year: 2015
ISBN: 978-0980032253