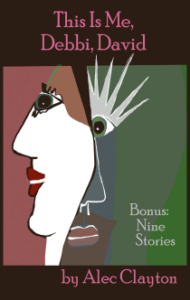 Alec Clayton's previous novels have been set primarily in the Deep South, particularly Mississippi, but in this new work he sends his main characters off on divergent roads of discovery towards Dallas and New York City. The novel alternates first-person narratives of parallel lives of two former lovers – a French Quarter stripper with a new rich boyfriend and a former Tulane English major who wants to be a Broadway star. As they journey towards their ultimate goals, they meet a number of characters who have at least a minor – and sometimes major – influence on their lives, although some of these individuals make only the briefest of cameos. David's storyline is the more picaresque of the two, but both his and Debbi's stories focus on what exactly it is that makes "This Is Me." Although most of the action occurs outside of the South, fans of contemporary Southern fiction will still find this novel an enjoyable read.
As a bonus, nine short stories by Clayton are included in this volume.
I've read most of Alec Clayton's delightful books. This Is Me Debbi, David rates right up there with his best work.
In addition to being a talented novelist (and painter), Mr. Clayton has for many years published astute reviews for numerous regional plays. This became evident to me while reading his latest book. While not a playwright (as far as I know), the author has created characters who truly jump off the page as though performing in a live stage production. It's a very good sign when the reader can see and hear the "actors" on each page, not to mention the vivid sets. To me, this is literary "drama" at it's best.
This may be Alec Clayton's best book yet. Debbi Mason is NOT a stripper, she insists; it's art. She's a fun girl, tattooed to the hilt, and unafraid of speaking her mind. She's been with David Parker for a couple of years. David, a Tulane English major is solid, predictable, and … well, kind of boring. Debbi meets Bryce, a tall, handsome, rich man who can offer her an easy life, wealth, and security. She walks out on David and moves from New Orleans to Dallas to live happily ever after. The stories of Debbi and David are told in alternating voices, following her less than happily ever after and his move to New York to pursue a career as an actor. David's story line is perhaps more fun because of the cast of colorful characters he encounters on his way to New York…and in New York, and draws heavily on Clayton's own experience as a theater critic. Debbi's is more predictable, with a few twists that make it surprising. On the whole the story is fun and so engrossing I read it almost in one sitting.