Alec Clayton Talks About his Latest Novel "Tupelo" at Browsers Bookshop, Olympia WA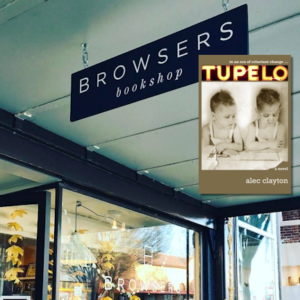 Browsers Bookshop welcomes local author Alec Clayton in support of his latest book, Tupelo.
He will present a freewheeling talk about coming of age in the Deep South during they heyday of the Civil Rights movement, about love and life and football and skinny dipping and rabid dogs and how all of this found its way into the novel.
There will be a brief reading, Q&A and book signing.
Thursday, September 14, 2017
7 PM – 8:30 PM
Browsers Bookshop
107 Capitol Way N, Olympia, Washington 98501
Browsers event page: http://www.browsersolympia.com/event/local-author-alec-clayton
Event on Facebook: https://www.facebook.com/events/1594900077249816/