Blackfoot Whitefoot review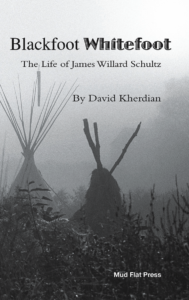 David Kherdian's Blackfoot Whitefoot reads like fiction, but it is history—exciting and engaging history. It is the story of James Willard Schultz, the first white man to live and hunt with, and even marry into, the Blackfoot Indian tribe.
The story opens with Schultz's travels by boat more than 2,000 miles west on the Missouri River, which Kherdian beautifully describes as being filled with "torn trees, brush, ice gorges, bloated carcasses of bison, and five million tons of mud each year. . . the river young Schultz had to see and know, for it had carried up its muddy waters a breed of men who had set themselves apart by their love of adventure and open spaces, and a desire to know the unknown." The second part of that statement telling describes not only James Schultz, but also the mountain men, fur traders and mule skinners he meets in his travels.
The book is rife with colorful and compelling descriptions of the places he saw and the people he came to know, particularly the Blackfoot. Adventures shared include helping Wolverine, his best friend in the tribe, steal a girl; and stories of hunting elk and buffalo, seeing the bones left behind when US soldiers massacred 176 Piegan Blackfeet men, women and children, and details of a wedding and married life radically different than in white society.
I highly recommend this book for anyone who loves romance, adventure and history.
https://www.amazon.com/Blackfoot-Whitefoot-James-Willard-Schultz/dp/172426530X/ref=sr_1_1