"Christmas on a Distant Planet" is here!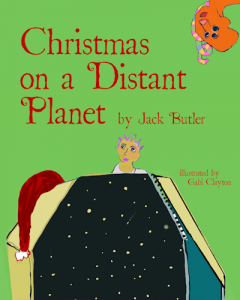 It is Mud Flat Press' great pleasure to announce the publication of Christmas on a Distant Planet, a young adult sci-fi Christmas story by Jack Butler, illustrated by Gabi Clayton.
Two years ago when Jack submitted this new novel to us he said, "I've written a Christmas story. As far as I know, it's the first Christmas story to tackle the theme of Christmas in a science-fictional way."
Christmas on a Distant Planet is an edge-of-your-seat story with beautiful descriptive writing and hilariously brilliant word play by the author of Practicing Zen Without a License and Nightshade (a tale of a vampire on Mars), and 1993 Pulitzer Prize nominated Living in Little Rock with Miss Little Rock, and much more.
Rammy-Remmy de Remy is an enterprising young boy living with his scientist parents and genius little sister on a snow-covered planet in outer space. He is worried that Santa won't be able to get to Outpost in time for Christmas, so he sets off on a wild adventurous life-threatening journey to open the Gate to let Santa in.
Available in hardcover and paperback.
Learn more here: https://mudflatpress.com/portfolio-item/christmas-on-a-distant-planet/