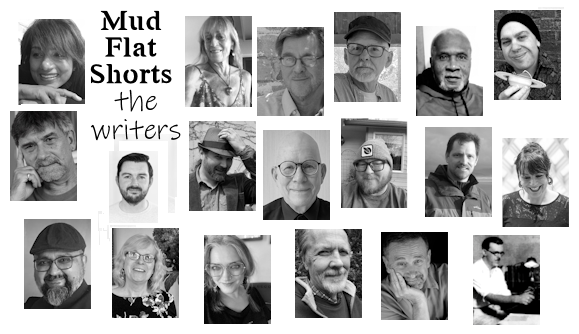 Dawud Al-Malik, Washington state — The story of his life-long journey, from a rural childhood in segregated Jim Crow Texas, to a wrongful conviction for murder in Seattle at the age of 19 that landed him on death row, to his release from prison after 50 years and his continuing battle for justice.
From the Depths of Darkness
Jenni Prange Boran, Tacoma, Washington — Professional screenwriter, story consultant and sometimes painter. She co-hosts a biannual Writers' Retreat in coastal Grayling, Washington.
Jack Butler, Eureka, California — Born in Alligator, Mississippi as the son of a Southern Baptist preacher, he is a poet, novelist, and essayist. His novel Nightshade was chosen as one of the New York Time's best books of 1989, and Living in Little Rock with Miss Little Rock was a New York Times bestseller that was nominated for a Pulitzer Prize in 1993.
Emmolene's Bones
Hawk Gumbo
Mrs. Lookadoo's Walkabout
Christian Carvajal, Olympia, Washington — Born in Los Angeles, came of age in Oklahoma and earned his postgraduate degree in Illinois. He was the founding managing editor of OLY ARTS and the playwright of 3 Impossible Questions.
Division by Zero
Blow Out the Candles
Time Capsule
Alec Clayton, Olympia, Washington — Grew up in Mississippi, co-founder of Mud Flat Press, author of ten novels (so far) and two books about art. He and his wife Gabi are past co-publishers of Persons newspaper and Mississippi Arts & Letters.
The Death of R&J
Selling the Fishing Camp
Josephine and the Tiger
CK Combs, Olympia, Washington — Queer trans author, parent and community activist. Though he dreams of eating pie and lounging in his hammock all day, he's busy writing a YA novel and a handful of short stories, all while surviving late-stage capitalism.
Keith Eisner, Olympia, Washington — teaches writing through the Olympia Senior Center, acts in local plays and enjoys writing while listening to baseball on the radio. Shrine previously appeared in the 2018 Big Muddy magazine as the winner of that magazine's Short Story Contest. His story Blue Dot, published in Salamander, appeared in the 2017 O. Henry Prize Story anthology.
Ned Hayes, Portland, Oregon — A novelist and journalist whose books have been published around the world in multiple languages — most recently the international bestseller The Eagle Tree, which was named one of the top five books about the autistic experience.
John Knold as Tracy Gunn, Olympia, Washington — After a thirty-year career in education, his last position was teaching woodshop with incarcerated teenage boys. His novel Bluebird Song, written under the pen name Morrison Phelps, was based on that experience.
Greeted by a Protest (an excerpt from his novel Kickback)
Megan Kruse, Olympia, Washington — One of the National Book Foundation's "5 Under 35" for 2015, and a recipient of the 2016 Pacific Northwest Book Award. She teaches fiction for the low-residency MFA program at Eastern Oregon University.
Meenu Madhavan, Olympia, Washington — Born and raised in Tanzania, she is a pharmacist by training with 20 years of experience in the retail sector, she has always had a keen fascination for people watching. She loves talking and listening to people's stories and is constantly amazed by the subtle nuances of human nature. She seeks the extraordinary in everyday ordinariness.
Shree Nath, Olympia, Washington — Raised in Kenya and spent his young adult years in India before pursuing graduate studies in the Pacific Northwest that culminated with a dual doctoral degree in Fisheries and Biological Engineering.
Anne Nayer, St. Thomas, Virgin Islands — A Renaissance woman: a writer, painter, musician, and puppeteer, she is a native New Yorker who has lived in the Caribbean for the past 35 years and has spent her life weaving together the threads of healing and art.
Eight Vignettes from a Memoir in Progress
James O'Barr, Olympia, Washington — While holding down a diversity of day jobs on this or that coast, he's found reason to write in a generosity of genres, including radio scripts, play scripts, newspaper articles, film and theatre reviews, songs, stories, and poetry.
James Robert Peery, Eupora, Mississippi (1900-1954) — Published two bestselling mainstream novels, Stark Summer (Harper & Brothers, 1938) and God Rides a Gale (Harper & Brothers, 1940) under his own name and dozens of mysteries under the pseudonym Carl Buchanan. Angels Sleep Alone (Mud Flat Press, 2020) is a sequel to God Rides a Gale.
Excerpts from Angels Sleep Alone, a posthumously published novel
Jes Simmons, Virginia — A second-generation English professor, poet, and jazz drummer who cherishes rhythm and syncopation, her poems, stories, and essays have appeared in College English, The Cormac McCarthy Journal, Cornfed Angel, The James Dickey Newsletter, Magnolia State Quarterly Review, Mississippi Quarterly, River City Review, and Sojourners, as well as in the anthologies Margaret Atwood: Reflection and Reality, Mississippi Writers: Reflections of Childhood and Youth, and The Southern Poetry Anthology, Vol. II: Mississippi.
At Dairy Queen Before the Funeral
Samuel Snoek-Brown, Tacoma, Washington — raised in Texas and now teaches and writes in Tacoma, Washington. He's the author of the story collection There Is No Other Way to Worship Them, about borders and boundaries in Texas and Mexico. His Civil War novel, Hagridden, features two women's struggle to survive alone in the Louisiana bayou. He also is the author of three chapbooks: flash fiction chapbooks Box Cutters and Where There Is Ruin, and the nonfiction chapbook There Are No False Alarms, about an active-shooter lockdown at a community college. Samuel also works as production editor for Jersey Devil Press.
Godsend
Til All the Bones Are Buried
James P. Stuart, Colorado — Received a Bachelor of the Arts in English from Colorado State University. Most recently, his work was featured in The Mountain, an anthology from Middle Creek Publishing focused on the roles and places held by mountains in the lives of those who love them.
Marlowe's Leap
Feet of Clay
Any of 100 Days
Ricker Winsor, Bali, Indonesia — grew up in New York, studied English at Brown University, and Painting at Rhode Island School of Design where he received an MFA. Ricker has taught Studio Art and English all over the world including Bangladesh, Trinidad, and Indonesia. He is an expatriate and has lived in Spain, France, and Mexico. For the past six years he has taught English and Writing online, mostly in China.
Pelham Manor, New York
Mr. Mischievous at Five