TEACHER by Alec Clayton is published! Order your copy today!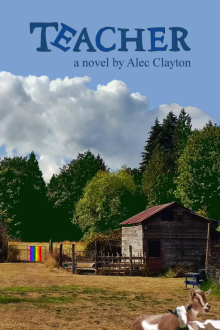 We are very happy to announce that Alec Clayton's tenth novel, Teacher is now published and available.
The story begins with a damaged and uncertain Eva McRoy, a bisexual high school English teacher in Olympia, Washington. She is under threat at work and in her relationships, and she loses custody and contact with her child after a tumultuous divorce. Yet Eva grows in identity and power as she starts an LGBTQ support group, joins in a protest of a police shooting of a young Black man and survives a school shooting herself. Through these struggles, she discovers a passion for justice and renews a sense of self that was waning.
Teacher is dedicated to survivors Crystal Chaplin and to her sons André Thompson and Bryson Chaplin who were shot by a police officer in Olympia, Washington in 2015. This story is fiction and none of the characters are real people. Many of the settings and events are real: Hands Off Washington and the Procession of the Species are real, but Sappho Farm and Beeson Academy are not. Much of the action was inspired by Alec's life growing up in the Deep South and coming of age during the civil rights movement and from his now long history as an LGBTQ activist.
He hopes to have some readings, book signings and other local book release events in the future, but the book is already available for purchase on Amazon at https://www.amazon.com/dp/B09FS72MR3/ $12 paperback, $3.99 Kindle. Autographed copies for purchase directly from MFP will be available soon locally, and we can ship them. Contact us for details on preordering your autographed copy.