This Is Me, Debbi, David Book Launch
Mud Flat Press is proud to announce the launch of Alec Clayton's latest novel, This Is Me, Debbi, David.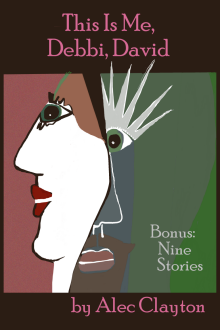 Mason is a self-professed "loudmouthed, fun loving, rabble rousing, perverse woman." Her boyfriend, David Parker admits he is "something of a nebbish little mama's boy. Can't help it. Never took a chance on anything in my entire life." But when Debbi leaves him to live in a penthouse in Dallas with another man—the worst mistake of her life—David takes the biggest risk of his life. He hitchhikes from New Orleans to New York with dreams of becoming a star on Broadway.
Told in alternating chapters by Debbi and David, This Is Me, Debbi, David unfolds a year in the lives of this unlikely couple as they embark on adventures that are unexpected, funny and tragic.
The nine bonus short stories run the gamut from vampires to football to a soldier trapped in enemy territory, to the difficulties of quitting smoking.
The book can be ordered from your local bookstore and is available from Amazon at https://www.amazon.com/This-Debbi-David-Alec-Clayton/dp/1725683229/.
Learn more at http://mudflatpress.com/portfolio-item/this-is-me-debbi-david/