Click on the titles below to read the reviews.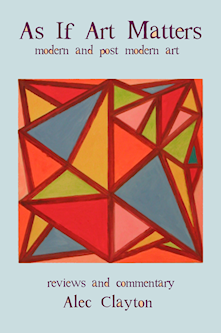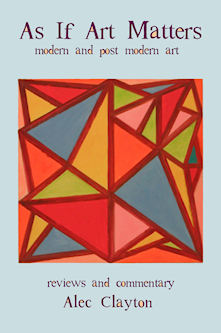 There are not too many regional art criticism books so that alone makes this book very unusual. It is not true that all the artists live in the major cities of the world, Alec does reviews and writes about his area artists and he gives them the respect that they deserve and need. His technique is like a professional art viewer or a chef who loves to cook for the flavor. As if he loves to look at art and think about it.
I know some art critics are swayed by mere trend and youth and therefore only gravitate toward the latest young artist out of art school,so his writings are the anecdote to those blinded by the glitz. He gets why artists keep at it. Alec reminds me of the artist/critic Fairfield Porter who made a living writing art criticism and was an accomplished painter.
As a newcomer to Tacoma Washington I became aware of Alec Clayton's reviews in the local papers, The News Tribune and the Volcano. I thought this guy is pretty well-rounded, reviewing sometimes theater and sometimes art exhibited in local art galleries. Because of this I bought his book.
What's interesting about it is his casual approach to describing the visual arts, sculpture and painting, with little negative judgement, and he can place it in an art historical context. (It feels) like you are seeing what he sees. I personally think it helps that he is an accomplished painter himself. It is a rare critic who can see from both sides of the fence. This is a really good and informative read.