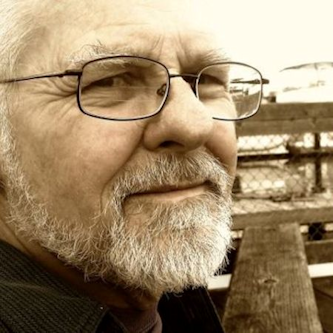 Alec Clayton was born in Tupelo, Mississippi. He graduated from University of Southern Mississippi and got his masters in drawing and painting from East Tennessee State University. He first started writing professionally while working for a service organization in Manhattan, New York called Everything for Everybody which provided food, clothing and shelter for the poor among many other services. Alec edited the organization's newspaper. In 1977 he and his wife, Gabi, returned to his hometown in Mississippi and founded a charitable organization based on the principles of Everything for Everybody, and they published a series of periodicals beginning with a weekly newspaper, Persons, and ending with Mississippi Arts & Letters, a literary and arts magazine.
Alec has taught drawing, painting and art history in public schools and in college and has exhibited his paintings in galleries throughout the country.
He and his wife are the founders of Mud Flat Press. He has published ten novels and two books about art. He works as a freelance features writer, and art and theater critic for Oly Arts (Olympia, Washington), and has written for The News Tribune (Tacoma, Washington), Weekly Volcano (Tacoma, Washington). Alec lives in Olympia with his wife and business partner, Gabi.
Published by Mud Flat Press (with first publication date):
People ask me what my books are about November 12, 2019
Alec's website: Alec Clayton Art and Writing
Alec's author page on Amazon.com
Alec's blog: South Sound Arts Etc.
Connect with Alec on Facebook

"Alec Clayton is an artist. His media has been painting and writing. Alec has a new novel out Tupelo which is based on his growing up in Tupelo, Mississippi in the 1940's and 1950's. If you liked or loved "To Kill A Mockingbird" you will love "Tupelo." ~ Barauch, April 8, 2018.
Listen to the interview with Alec by Baruch on "Paradigms" here. [a one-hour audio podcast with interview and music]