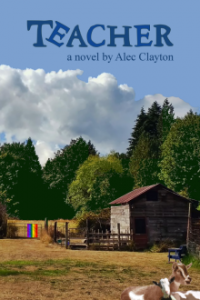 by Alec Clayton – Intense, funny and true to life, Teacher begins with a damaged and uncertain Eva McRoy, a bisexual high school English teacher who lost custody and contact with her child after a tumultuous divorce. Her self-identity is now under threat at work and in relationships. Yet Eva grows in identity and power as she starts an LGBT support group at school, joins in a protest of a police shooting of a young Black man, and survives a school shooting herself. Through these struggles, she discovers a passion for justice and renews a sense of self that had waned.
Set in Olympia, Washington with a strong sense of place, Teacher weaves actual events with the fictitious lives of Eva, her strong and no-nonsense wife, Helen, and her fellow teachers.
"I was so impressed with the way that Teacher weaves together so many big themes. Alec Clayton has a gift for discerning the scenes and moments that will reveal the greater story and the ability to masterfully pull a complex story along." Megan Kruse, author of Call Me Home
"Teacher is a short but complete literary novel that will be enjoyed by readers who love complex character-focused novels." Ned Hayes, author of The Eagle Tree and Sinful Folk
Order Teacher from your favorite bookstore or Amazon.
Publication year: 2021
Trade paper, 132 pages
$12.00 Amazon ISBN: 979-8470804662
Also available on Kindle.