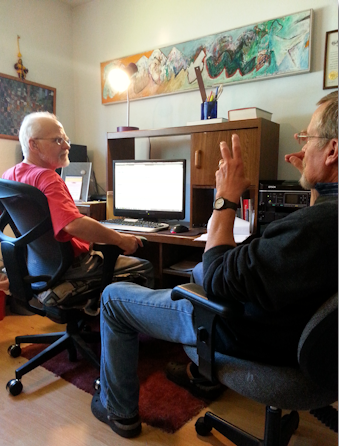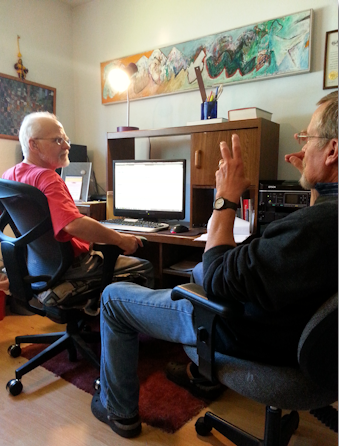 W
e help self-publishing authors prepare their books and upload them for print-on-demand (POD) sales online as trade paper books and Kindle e-books.
There are many self-publishing, POD services such as Xlibris, Author House, Lulu, CreateSpace and others. The service we generally use is CreateSpace, an Amazon company.
With most POD services you can publish your book at no cost to you if you prepare the book yourself, meaning all the editing, interior and cover design. Or you can pay additional fees to have their professional editors and designers do the work for you.
We at Mud Flat Press can do part or all that work for you. We will consult with you once without charge, and together we will decide how much of the work you want to do yourself and how much we should do for you, and we will continue to consult with you at every step along the way.
• We will edit your manuscript from developmental editing to simple proofreading.
• We will format and paginate your book interior.
• We will design your book cover, using artwork provided by you or created by us.
• We will help you create a CreateSpace account if you don't already have one. We will walk you through the step-by-step process of uploading your book to their service or, if you prefer, we will upload it for you.

We invoice for the work we do and do not then also get a cut of the sales of your book(s).
Prices are negotiable but generally comparable or much cheaper than POD companies charge. The more of the work you do yourself, the less it will cost you. Be aware, however, that even the most professional writers and designers make mistakes and need a second or third set of eyes to assure a quality product.
We do not offer distribution services, but many POD companies do.
"Without qualification, I heartily recommend the folks at Mud Flat Press. Alec and Gabi Clayton combine an invaluable set of publishing skills from multiple perspectives: author, editor, graphic designer, computer skills and literary insights. It has been a great pleasure to have their gentle guidance through the publication process of my first book." John Knold, PhD
The Mud Flat Press Imprint
We do not offer all books we work on to be published with the Mud Flat Press imprint, only those that strike us as unique in style and original and honest in content. Books that we choose to give the MFP imprint, if agreed on by the author, will have our logo imprinted on the book spine, back cover and copyright page. On amazon.com CreateSpace will be listed as publisher because that is the way they work.
If we choose to give your book the MFP imprint and you agree, we will promote it on this website and on the Mud Flat Press Facebook page. To ensure stylistic consistency and to make the books we publish as error free as we can, Mud Flat Press insists on doing the final edit on any books that are given the MFP imprint, for which service we will charge our usual per-hour fee.

Editing Services
Separate from our book publishing services, we offer editing of stories, papers, articles and other written documents.
There are many types of editing with a lot of overlap between types. If you search online you'll discover that every professional editor has his or her own definition of developmental editing, copy editing, proofreading, line editing, substantive editing (sort of the same thing as developmental editing). And then there are sub-categories of these such as heavy and light copy editing and fact checking. Generally speaking, developmental editing leans more toward structure and helping the writer find the right tone and the best possible flow of words, and copy editing focuses more on grammar and spelling.
Your editing needs may also vary depending on whether you are doing a self-published book or preparing a manuscript to submit to an agent or publisher and on what type of publication you're writing for. For example, many online publications are more lax in style requirements and are more casual in tone than print publications or academic journals. Most newspapers insist on using the AP Stylebook, while books and magazines often prefer using the Chicago Manual of Style. We are experienced in these, and we like to tailor our editing services to the writer's needs. We will have a consultation with you before getting started so that we understand exactly what you need from us.
We learned writing and editing through on-the-job training. Alec started out editing an alternative weekly newspaper in New York City from 1973 to 1977. Gabi wrote and did proofreading for the same newspaper. In '77 we moved to Hattiesburg, Mississippi where we published first a weekly newspaper, then a monthly city magazine, and finally a statewide literary, arts and entertainment magazine. Alec has been an arts writer and editor for Swarner Communications, publishers of the Weekly Volcano, the Ranger and Northwest Military.com since 1995. He worked as an assistant features editor for The News Tribune and has written a regular column for them since 2000. He has self-published eight novels and a book about art, all of which Gabi edited, and together the Claytons have edited books for Jack Butler, Ricker Winsor, Morrison Phelps and others through Mud Flat Press.
We will edit your project using the "track changes" function in Microsoft Word, which allows the writer to accept or reject suggested changes.
From rough copy to finished product, we can make your words and images sing with clarity and precision. ClaytonWorks is the web and graphic design arm of Mud Flat Press. We design websites, logos, brochures, business cards, banners, t-shirts, etc. See more information here.