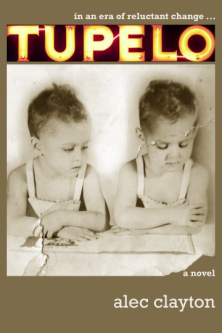 by Alec Clayton – A tale told from beyond the grave by Kevin Lumpkin, youngest of a set of identical twins, Tupelo is the story of a small town in an era of reluctant change. as seen through the eyes of a white boy born to privilege who comes of age in the time of Freedom Riders, lunch counter sit-ins, civil rights marches and demonstrations.
Born in 1943 on the night when their father's hardware store burns to the ground, Kevin grows up in idyllic times, the boom years of the 1950s—football, fast cars, rock and roll, and dates with the cutest girls in school. But gradually he discovers that he and his family live in a protected bubble while less than a block away in an area known as The Alley, a handful of black families live in poverty, almost invisible to Kevin and his family. He develops a crush on Maddie Jean, a young girl from The Alley, but they both know they can never be friends. He watches in confusion as his white friends react to the growing civil rights movement and in horror as they riot on campus at nearby Ole Miss when James Meredith breaks the color barrier.
"Alec Clayton is a true original, delivering his readers a fraught and powerful story of family and community laboring through the past decades of change in the South. Tupelo is a haunting and personal tale, reminiscent of the best of Pat Conroy. Highly recommended!" – Ned Hayes, author of The Eagle Tree
"As much as I have enjoyed his other novels, I have to say this one may be his best. Perhaps it is the consistent through-line, the tight plot provided by his focus on the twins, Kevin and Evan, and their differing lives and behaviors: One grows gradually into the bigotry so prevalent around him, one becomes that dreaded southern phenomenon, a liberal. – Jack Butler, author of Jujitsu for Christ
Read an excerpt. (PDF format)
Read the reviews.
Order Tupelo from your favorite bookstore or Amazon.
Publication year: 2016
Trade paper, 348 pages
$15.00 Amazon ISBN: 978-1537475370
Also available on Kindle.
"Alec Clayton is an artist. His media has been painting and writing. Alec has a new novel out Tupelo which is based on his growing up in Tupelo, Mississippi in the 1940's and 1950's. If you liked or loved "To Kill A Mockingbird" you will love "Tupelo." ~ Barauch, April 8, 2018.
Listen to the interview with Alec by Baruch on "Paradigms" here. [a one-hour audio podcast with interview and music]