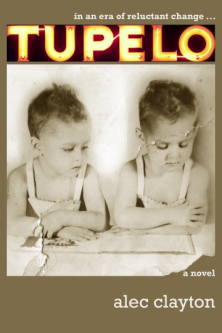 Bev Sykes – Goodreads
Through the eyes of kids
Whenever I finish an Alec Clayton novel I again suspect that this good ol' boy raised in the South is secretly a Russian author. His novels are filled with so many characters — many of whom are called by more than one, or even more than two different names — that you might as well be reading Dostoyevsky. Ah…but Dostoyevsky wasn't as much fun. The problems with this cast of thousands and the episodic nature of the story is that it becomes difficult to care about any one person.
This is the story of a town and its residents, particularly the friends of the narrator, Kevin, who is the identical twin to Evan and with whom he has a life-long love-hate relationship. It follows the kids through the segregated 50s and the tumultuous 60s and the beginning of the civil rights era. It shows events through the eyes of kids, who were kinda sorta aware of what was going on, but not really.
What keeps you going is Clayton's style, which flows beautifully. His descriptions are fun to read. And if I have any real complaint it is that as a professional writer and newsman, he really, really should have had a better proofreader. Too many really sloppy grammar and spelling mistakes. There aren't a lot of these mistakes, but enough to make me cringe when I stumble on them.

Sam Snoek-Brown – Goodreads
Charming (and sometimes harrowing) life saga

A charming book written in a classic Southern-storyteller voice, full of seeming non sequiturs that, if you know the cadence of Southern storytelling, aren't non sequiturs at all — they're crucial sidebars to the main narrative that appear where they happen to turn up in the storyteller's mind. It's a clever bit of craftsmanship from Alec Clayton that solidly helps bring to life this charming (and sometimes harrowing) life saga.

Ricker Winsor – Empty Mirror Books
A master stroke right from the beginning !
Tupelo is Alec Clayton's eighth book. I have read most of them, if not all. I have watched his writing carefully. We both are painters and writers. In fact, I met Alec when he reviewed my first painting show back in 1994 in Tacoma, Washington, "The City of Destiny" as it is known. He was the arts writer for a local-events paper, a good one. That was before he wrote his first book, before he reclaimed his memories of boyhood and coming of age in the deep culture of post-war Mississippi. The other books are full of interesting characters and situations particular to the south in many ways but not to the extent that Tupelo is. In Tupelo Alec allowed himself to be that boy and young man again, and to be that entirely and unapologetically, to own it. And own it he does. He delivers the expressions, the nuances of deep southern culture, with a voice in perfect pitch, never missing a beat. They are as integrated into the story as white on rice. Inevitably, one of the great themes of the book is the racial divide, how black and white interact with such complexity, mixing love, affection, fear, and hate. Alec explores this more like a poet than a sociologist, leaving us satisfied in a peculiar way because truth is satisfying although not necessarily comfortable. More telling than all the words I have ever read about racism is Alec's story that tells of living its ironic beauty, its cruelties, its ignorance, and its heartbreaks. He brings the reader inside the feelings and tensions of the people involved in a deeply personal way. There are many beautiful things about this book. He made a master stroke right from the beginning, in the conception of it all, by having the twin brother Kevin tell the story from the grave. That allowed for the story to be told from the first person and from the omniscient observer at the same time with no shocks to the reader, seamless and smooth. One minute Kevin can be sitting out on the curb looking up at a window of the house where Wanda is dressing and the next moment he is in the room watching her, knowing her thoughts and describing her situation, listening to the conversation she is having with her mother. As the reader, you don't even notice this unless, as an appreciator of literature, as a writer, you just note it and applaud its brilliance.
Because of the natural beauty of Alec Clayton's prose, and the flow of the narrative, it is easy to miss the stunning craft this writer has mastered over eight fine books. The roll of the prose is like the big river itself moving smoothly forward carrying us along, reminding me of Mark Twain at his best, those special days when Huck and Jim shared a log raft on the Mississippi and were free and full of life in the southern sun. There were so many places where the plot could have been manipulated in some predictable way, so many ways it could have been more dramatic here or there. With great discipline and restraint, the writer stayed true to what's real, that things don't always end with a bang, that situations hang with tension in the air, that life goes on pretty much the way it always has, not the great ecstasy or the great tragedy but some of both. And this sense of restraint allows the reader to trust and enter more fully into the story without fearing some cruel, surprising jolt coming from out of the blue. Time passes in the story, a lifetime passes. Things change as they inevitably do and usually not for the best.
Systems fall apart; this is entropy. There is a good writer named Rohinton Mistry, whose first book, A Fine Balance, won many awards. It is a great work up to a certain point and then, perhaps having heard about entropy, Mr. Mistry goes about destroying every good thing about the characters, situations, and relationships he has so beautifully created. I still hate him for that. In discussing this destruction with others, I have heard them say, "But that is the way it is." I don't buy it. And Alec Clayton does not buy it either because most of his people are still standing, metaphorically, at the end of the story even if they are not there anymore. And the ending is unusual, surprising, moving, and as satisfying as stark naked honesty must always be. Watching the evolution of Alec Clayton's writing over the past twenty years has been like watching a long-distance runner who starts from behind but slowly, as the race goes on, starts picking off the runners ahead, gaining strength as time passes until he crosses the finish line ahead of the pack. Bravo.

Anthony J. Adam – Amazon
The pains of love, and discovery of sex but also the changing …
Mississippi has had more than its share of good-to-great writers, each focusing on a different section of this surprisingly diverse state. While Frederick Barthelme examines life on the modern Gulf Coast, Welty the Delta, and of course Faulkner rural Yoknapatawpha County, former Mississippian Alec Clayton sets his latest novel in Tupelo, the largest town in the northern part of the state, during the decades following World War ll. In this bildungsroman Clayton follows the births through deaths of a set of identical twin boys as they navigate not only the joys of childhood, the pains of love, and discovery of sex but also the changing racial landscape of the town. The novel is populated with dozens of colorful characters, ranging from the twins' parents and sisters to school friends, the 'help,' and assorted town denizens, and as in real life characters appear and disappear often without warning. The narrative intermingles a number of storylines also, sometimes focusing on racial inequities, sometimes on the twins' family life; readers must have patience to discover where the thread is heading, but in the end they will be rewarded.
As is the case with most Southern writing, the land itself becomes a major character. For those of us who lived for a spell in north Mississippi, the lakes, backroads, drugstores and courthouses will have a familiar ring. The streets here are actual Tupelo streets – Main, Gloster – and Clayton's detailed descriptions could almost be a roadmap for someone new to the town. The language also rings true – characters do not speak as Southern stereotypes but as you'd expect them to speak if you ran into them on the street decades ago.
If you're searching for a somewhat nostalgic read of regional literature or especially that narrowly defined genre of "Growing Up Southern,", Alec Clayton's TUPELO is well worth picking up.
Best Yet!

Christina Butcher – Blue Cactus Press
The honest narrative and strength of storytelling alone will be more than enough to to get you hooked
Let me start by admitting that I don't usually read books about the American South. I find them tedious and often, as dry as a sad packet of army-issued crackers. I'm not a big fan of authobiographical-ish tales of young men fumbling through their youth, either (get out of here, The Great Gatsby and The Catcher in the Rye, scat!). So, when I started reading Tupelo by Alec Clayton, I was less than thrilled to realize I was in for both.
But like a good friend and a fellow, local writer (one who doesn't want to avoid eye contact with an author I see at least once a month and very much enjoy chatting with), I decided to read the first quarter of Tupelo before passing judgement on it or tossing it back on the bookshelf. Plus, Clayton is a damn good author and storyteller, so his book, Tupelo, deserves a fair shake, right?
The answer is yes. And I'll fast forward a few days and a lot of cups of coffee here to a moment when I realized I was thoroughly enjoying Tupelo, despite my early misgivings. And no, it didn't take the first quarter of the book to get me there, either. It simply took the realization that this story, the story of a young man and his family navigating through an evolving cultural landscape, is told with a hell of a lot more honesty than usual. Oh, and the overall quality of his storytelling was on point, too.
Set in a small Mississippi town struggling to adjust to change during the mid-twentieth century, Tupelo could have been a book about a young, white and male protagonist making all the right moves during his youth and eventually, bridging the cultural and political gap between whites and African American's during the Civil Rights Movement. It could have been a hero's journey full of moments where the protagonist did exactly the right thing at exactly the right time and played a pivotal role in changing the world around him. But it isn't. It's much more honest than that.
Clayton provides a truer picture of what it was like to grow up in the confusing and racially and politically charged times of the 1950's and 60's. His protagonist doesn't make all the right moves, he isn't always at the center of the action, and he doesn't try to cover up the unpopular or insensitive views of the people in his life. Instead, Tupelo offers readers a realistic look at a family and community who aren't only concerned with the civil rights movement, but are entrenched in their own ups and downs, budding and failing relationships and struggles to survive. It's about the change, and lack thereof, that a young man, his family and his community are all facing in the midst of an evolving cultural landscape.
And to be perfectly honest, I think Clayton's focus on representing his youth honestly and without unnecessary fanfare would have been lost on readers if Clayton wasn't such a strong storyteller. Tupelo is full of sidebar adventures and peripheral characters that eventually circle back to the main plot-line, but the digressions don't feel unnecessary because Clayton does an excellent job weaving them into the fabric of his larger story. Tupelo's characters have a healthy dose of positive and negative personality traits, too, which keeps readers invested in the story even when it's taken a detour. And true to his promise, Clayton ties up any loose ends before readers reach the end of their literary journey.
I was pleasantly surprised to realize how much I was enjoying Tupelo as I turned the last few pages of the book, despite being very sure I'd dislike it in the beginning. And for all you readers out there who're like me, who might be thinking Tupelo isn't your cup of tea because of its genre or content, I say give it a go. The honest narrative and strength of storytelling alone will be more than enough to to get you hooked, trust me. Tupelo is a good book, by a great storyteller. Don't pass it up.

Sandy D. – Amazon
This ranks tops with me
I have read all of Alec Clayton's books. This ranks tops with me. I had the advantage of knowing "identical twins", so I was able to picture them throughout the book at their different ages. I highly recommend this book as well as the rest that he has written. I anxiously await his next book.

Amazon Customer
The South as it was
Wonderful Writing style, so descriptive. Window on history that is sometimes hard to read because it is true. Looking forward to starting the trilogy next.

Martina C. – Amazon
Highly Recommended Read
I was in my favorite hometown bookstore the other day and noticed when checking–out that Alec Clayton's new book was on display. I knew I wanted a copy and boy am I glad I picked one up.
I've been of fan of Mr. Clayton's books for several years. (In particular I liked Imprudent Zeal, largely due to one of my favorite fictional characters ever: Scully.) Having just finished Tupelo, I regard this new novel as one of Mr. Clayton's best to date, if not the best.
Like many of the Clayton books there's a big cast of characters. It took me awhile to keep them all straight, especially because many of them have nicknames, or names that sound similar like Kevin and Evan, who also happen to be identical twins. So much so in fact that they sometimes have the same feelings and thoughts, and can't bear to be separated as little boys. They eventually grow up, and intriguing differences appear. (Actually, their whole family grows up along with them as the story becomes a mini–saga of sorts).
Although this isn't a memoir, to me it reads very much like one. This is a plus because the story seems as though it really did happen as it all unfolds with a slew of unforgettable and artfully crafted scenes.
Toward the end I was feeling that probably things were coming to a genial conclusion. Wrong! Suddenly Mr. Clayton creates a huge crescendo mixing together drama, mystery, action and a troubled romance (not to mention a bizarre and humorous town event).
A huge plus to all the wonderful character development and storytelling is the compassionate and insightful treatment of segregation in the deep south during the 40's, 50's and into the 60's. Oh, and don't let the cute little twins on the cover fool you. They can be mischievous, high spirited, pugnacious, and maybe even murderous.
This really is a masterpiece. A major work. It's more than entertaining; the story has historical significance. I highly recommend Tupelo.

Jack Butler, author of Jujitsu for Christ and Living in Little Rock With Miss Little Rock – Amazon
and as much as I have enjoyed his other novels
I've recently read Alec Clayton's new novel, Tupelo, and as much as I have enjoyed his other novels, I have to say this one may be his best. Perhaps it is the consistent through-line, the tight plot provided by his focus on the twins, Kevin and Evan, and their differing lives and behaviors: One grows gradually into the bigotry so prevalent around him, one becomes that dreaded southern phenomenon, a liberal. One eventually commits what amounts to murder, though he is never tried for it, or even blamed for it. (I won't tell you which in either case.)
The book is a long look at the mores of a Southern town, in this case, Tupelo, in northern Mississippi, where the racism was even worse. It was, and is, bad everywhere in Mississippi, but it was even more virulent in the north of the state.
In saying so, I do not mean to imply this is an angry novel about racism. No. It isn't. Clayton, as always, handles his characters with a gentle though absolutely truthful touch. Kevin, or Evan, whichever one turned out decent, I'm not telling, gets his decency from their parents, Driver and Punkin, as they call each other and everybody calls them, for reasons lost in their history. Clayton, as ever, is wonderful at getting at the development and mores of all of his characters, not just the "good" ones. A sizable portion of his accomplishment is the fidelity and detail with which he records the past, makes it perfectly real and present. Driver and Punkin (the names alone are winners) are not moralists or activists. They are, simply decent people, with a decency which will not descend to racism, but is able at the same time, because of that very decency, to get along well with the generally more bigoted neighbors.
A book this good would not be lacking a good villain, and Clayton provides one, son of the local mean bastard and general no-good. He rises from a contorted childhood to become District Attorney, but his greatest evil has yet to occur. He loves to terrorize the twins—or rather to attempt to terrorize them. Kevin and Evan are small but fiery, and will buckle the knee to no one. This villain deserves a comeuppance, and he gets one, a well-deserved one, and one that proceeds from his own evil choices, finally.
Oh, and for fans of Travis "Red" Warner—you've seen him die, but an extra bonus of this warm and wonderful novel is that you get to see him live again, as a child in Tupelo, and you get to see the sorts of things about him you would love to know.

Christian Carvajal, author of Lightfall and Mr. Klein's Wild Ride – Amazon
Admired and worked with Alec Clayton and his amazing wife Gabi for about six years now
By way of full disclosure, I've known, admired and worked with Alec Clayton and his amazing wife Gabi for about six years now. I've read maybe half a dozen of his books and who knows how many art and theater reviews. In fact, I was asked to read an early draft of his latest novel, Tupelo, which I thought needed serious work. Writing vaguely autobiographical fiction is a tricky business, and it was clear Alec was still honing in on his narrative. Having said that, I've now read his final publication draft, and what a difference a series of revisions can make! This may be my new favorite Alec Clayton novel. We find our thoughtful hero, Mississippian journalist-in-training Kevin Lumpkin, dealing with the arrival of civil rights legislation and philosophy in the American South. Let me say that I approach any novel about a white guy dealing with Southern racism with understandable trepidation. But Lumpkin and his twin brother Evan, along with a community of friends, family, lovers and adversaries, emerge as multidimensional characters who don't always bask on the right side of history. Clayton uses a series of delightful reminiscences and anecdotes to weave a complex landscape tapestry of a region getting dragged, not too willingly, into a paradigm shift. I doubt I could've read this draft at a more opportune time. In the wake of an election both the Claytons and I consider a disaster for American political and moral legitimacy, Tupelo is a stealthy reminder that we've made enormous strides since the days of ubiquitous institutional racism. It's so easy for us to forget how far we've come. Of course we still have so many miles to go, but Alec Clayton gazes back at a time when a mixed-racial president or even an integrated college campus was a pipe dream. Racism is a nauseating fact of life–yes, even now–but Tupelo offers hope that American history will keep inching toward the light no matter who occupies the elliptical office on Pennsylvania Avenue. History matters, and Alec Clayton's breezy writing and relatable characters may it go down as smooth as a swig from a Mason jar full of sweet tea.

Courtney Shrieve – Amazon
I never understood how my twin brother grew to hate me. At least I couldn't get it while …
Let's start at the beginning… "I never understood how my twin brother grew to hate me. At least I couldn't get it while we were still alive." From that line I was captivated by this book. Clayton is a master storyteller and while admittedly semi-autobiographical, his creative genius captures you from the get go.
I love characters in this book and that to me is what keeps one reading. Who else has parents called Punkin' and Driver? Who names their identical twins Kevin and Evan Lumpkin? These two get into countless mischievous acts from hiding and dancing naked in a hidden compartment off the attic, to getting attacked by a rabid dog along with some "colored" children. There is much to do about race and adversity and the South from 1945 onward into the late 60s. I actually liked it better than The Help from that respect because it is so honest. Kevin's attraction to his maid's daughter Maddie Jean is tender and also a bit sexist at times: .. "my attraction to her was at least partially because she was Black. It was the myth of the highly sexed Black woman" (don't worry Maddie Jean slaps him and tells him off good several times). Kevin says things that sometimes appall you (yes, as a woman) but he's so humble and apologetic and gets when he is in the wrong. Students today could benefit from reading this book and looping back to Black Lives Matter discussion around current events.
The Elvis factor is a hidden gem in the book since Elvis grew up in Tupelo, but it's not a major part of the story. If you grew up in the South during this time though I HIGHLY recommend reading it as Clayton has a firm grasp on the era and descriptions of music, cars and all the rest. It was not prepared for the ending which turns out to be a murder mystery in the courtroom with young journalist Kevin trying to figure out his past and present convictions not to mention all the familiar ties of his youth. Black man accused of killing and raping white woman. I know, I know, but the conclusion is NOT what you expect and gives one hope. I have no doubt this could be made into a fantastic movie as well. Did I mention the twins are charming even as Evan becomes kind of an ass over time? Their bond seems unbreakable which is amazing given what they go through.
Disclaimer: I do know the author but he did not pay me to read this or give me the book. I bought it after a reading and boy am I glad I did! Buying a copy for my Dad who grew up in the same era and hoping he does the same for his book club of gents in their 70s. Psssst. PASS IT ON!

Cailin Maccionnath
This book made me cry, laugh outloud and cringe. As readers we know…that is a sign of a GREAT BOOK!
The cadence of its drawls which are more like forgotten songs lingers capturing a place in your heart …
There is something about the South isn't there? Something that through its "languid days and soft nights, the cadence of its drawls which are more like forgotten songs" lingers capturing a place in your heart forever. And yet there is also something ominous. Maybe, as Marina Brown suggests, it is because of what "used to happen there in the Oak groves where dark curtains played against white cloth" that becomes a little scary. If you have ever lived in the South, especially between the 1940's ~ early 1960's, you will enjoy Tupelo. If you are curious about life in the South this is a story for you. Alec Clayton, with his deep understanding, writes a warm and powerful story of one family, and one small community, caught up in its struggle of conflicting emotions regarding class and race, and the awakening consciousness which led to the eventual marches and sit~ins. He writes, "We were as tiny as pearls and as expansive as dreams." It is a story not to be missed.

Ned D. Hayes, author of The Eagle Tree and Sinful Folk
Reminiscent of the best of Pat Conroy
Alec Clayton is a true original, delivering his readers a fraught and powerful story of family and community laboring through the past decades of change in the South. Tupelo is a haunting and personal tale, reminiscent of the best of Pat Conroy. Highly recommended!

Sam Merrill – Amazon
Tupelo rings true of a small Deep South town
Like the author Alec Clayton, I grew up in a small town in the Deep South. Tupelo rings true of my experience of small-town pretensions, social-climbing, and racist mindsets, and brings back the dialect and idioms of that culture that I had almost forgotten. The author speaks broadly from his experience in Tupelo, Mississippi, but the details of characters are carefully drawn from imagination as well as experience and are multi-dimensional. The reader follows the narrator's budding dissolution with the culture in which he (like Alec Clayton) is thoroughly embedded but finally emerges.

Madeline Morgan – Amazon
A lovely book
A lovely book, knowing and wise, by an elegant and perceptive writer who knows the rhythms and cadences of life in the small town south. A wonderful read.

PNW Girl – Amazon
Trip to the South Like No Other
Over the years, I've occasionally thought about visiting the South, because it seems so foreign. Well, not only did Alec Clayton's Tupelo take me to that part of the country, but my tour guide was a charming young southerner who shared his coming of age, and the region's evolution, as well. It was a trip, from beginning to end, I could hardly put down.
Alec's skillful telling of this fictional biography through the tumultuous past, an era of the South's "reluctant change," had me from the beginning…and I mean from the cover art: two little twin boys reading – with a tear through the photo that separates them. Alec shows in vivid detail how psychically-attached these twin boys are, and how Kevin and Evan slowly come apart to find very different identities. He also shows in cringe-worthy detail, relationships between Blacks and whites (and the brutal hostility). He shows the racism that so permeates Southern history, like the stifling hot air they breathe. And as the twins begin to understand the reality of their place as privileged whites versus the "colored" place of utter disenfranchisement, we see Kevin's struggle to make sense of it, we feel his confusion, his longing to bridge the gulf, and his reluctant acceptance of his inability to do so. We are witness to the fight between right and wrong that wends its way through a Harper Lee worthy scene of legal injustice, that boils out into the civil rights era and beyond.
Alec is a talented story teller who shares the many fascinating details of his southern past with us, and all who read this book can't help but find it useful in coming to a kind of understanding of today's political polarization. I know I have a richer understanding of this foreign part of the country called the South.

Back to Tupelo