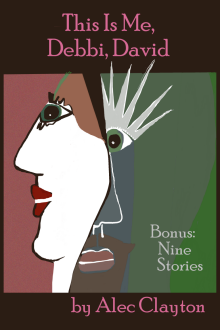 by Alec Clayton – Debbi Mason is a self-declared loudmouth, fun loving, rabble rousing, perverse woman. David Parker says he has always been something of a nebbish little mama's boy who never took a chance on anything in his entire life. When Debbi breaks up with David and runs off with a man she thinks can provide wealth and security, Debbi and David each embark on adventures that are, in turn, romantic, funny, enlightening and scary—adventures that take them from the French Quarter in New Orleans, to Dallas, and to New York City's East Village. And into their own hearts.
A novella plus nine bonus short stories.
"Alec Clayton at his best. He presents the reader with two lead protagonists, each with a compelling account of the year after their break-up. Major dramatic questions emerge early on: 1. how will the beautiful and exotic Debbi survive a violent situation and why can't she seem to escape her Texas entrapment; 2. will David be able to follow his bliss amid the bizarre, quirky, sometimes evil, sometimes lovable characters who give him a lift along his journey to New York; and 3. will Debbi and David ever meet up again? Try as you might to anticipate the answers, I predict you will be surprised. Truly a great read. Expertly crafted!" – Morrison Phelps, author of Bluebird Song.
Read an excerpt (PDF file)
Read the reviews
Meet Alec Clayton
Order This Is Me, Debbi, David from your favorite bookstore or Amazon.
Publication year: 2018
Trade paper, 224 pages
$12.00 Amazon ISBN: 978-1725683228
Also available on Kindle.