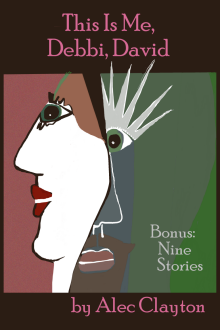 Jack Butler – Amazon
A novel of love
I've often wondered what the strange charm of Alec Clayton's fiction is. His characters affect me in a way that literary characters seldom do.
Finally I think I've figured a part of it out. Much of his fiction is narrated (ostensibly) by one of the characters—that is, it's first person narrative. He shows no hesitancy to split the narration between involved characters, but they all tell their part of the story in the first person.
So it is with This Is Me, Debbie, David. It's a novel of love. Both David and Debbie freely admit that their romance (in New Orleans) is the love of their lives. No sooner than we find this out, though, than they split. The occasion of the split is Debbie's decision to marry a man from a wealthy family, who seems a good guy, and who can provide for her future, as David, whom she professes to love, cannot.
From there the story is narrated alternately by David and by Debbie, telling how their love lives have gone since the split. Debbie's story is not surprising—the guy who seemed a good guy turns out to be an abuser, a cruel young man who uses women, including the family's young black maid.
David decides to defy the timidity in himself, and heads north for New York City, where, by a series of almost-incidental events, he becomes a story-teller.
David is clearly modeled on Clayton himself, who has become an oral storyteller of some note. Story-tellers, based on the world that we see David coming to inhabit, appear to weave stories out of their own lives, but not limited to those lives. (Clayton freely admits that while the David part of the story is modeled on his own experiences, he has invented the Debbie part—it never happened to him.)
Since this is a review, and not a story, we'll keep it short. David meets, and sort of falls in love with, another story-teller. The story of how he and that story-teller met becomes a favorite on the story-telling circuit, and soon enough it closes, as it must, with the two story-tellers falling in love, well before they know it themselves.
Meantime, Debbie has freed herself from the bondage of her bad husband, and (with the unexpected help of the man's father), followed her own dream, which is the establishing of a studio for dance. Naturally enough, Debbie and David meet again, when, visiting, Debbie decides to go to a story-telling event, hears David's story of he and Debbie, and rises to proclaim that it didn't happen quite that way.
And how does it all turn out? Naturally the Debbie-David-Rain (the other story-teller) trio is a sensation in the story-telling community.
Giving away no clues, I will say that it all ends well for all, but that the ending will probably be a surprise to almost all readers. We learn that not only do we make stories from our experiences, but that the stories we make shape our experience, enter our realities.
And what's Clayton's secret? I don't think it is the secret, mind you. I'm sure he has others. But this one is so simple it's almost invisible. His characters, when they tell about themselves, tell the truth. It isn't the cruel and crushing revelations that our generation has come to conflate with the truth. It's the truth of their own beings, including the questions about themselves. And in doing so, they leave open all the ways that life can go that stories usually don't, so that Clayton's stories have, always, that refreshing turn to some small but totally unforeseen and living conclusion. You have the sense of coming away having met real people.
I've run out of room, but after the David/Debbie novella, there is a bonus of some nine short stories, all quiet, all possessed of that same ultimate human freshness. You will meet a sort of a know-it-all fellow who learns to hope, desperately, that there is no such thing as vampires, a female boxer who finds her love at last, after much betrayal, a pair of identical twins who share such a love there is no room at all for envy, and many other unusual and delightful citizens.

Anthony J. Adam – Amazon
Two Roads Diverged
Alec Clayton's previous novels have been set primarily in the Deep South, particularly Mississippi, but in this new work he sends his main characters off on divergent roads of discovery towards Dallas and New York City. The novel alternates first-person narratives of parallel lives of two former lovers – a French Quarter stripper with a new rich boyfriend and a former Tulane English major who wants to be a Broadway star. As they journey towards their ultimate goals, they meet a number of characters who have at least a minor – and sometimes major – influence on their lives, although some of these individuals make only the briefest of cameos. David's storyline is the more picaresque of the two, but both his and Debbi's stories focus on what exactly it is that makes "This Is Me." Although most of the action occurs outside of the South, fans of contemporary Southern fiction will still find this novel an enjoyable read.
As a bonus, nine short stories by Clayton are included in this volume.

Becky Knold – Amazon
Literary Drama At Its Best
I've read most of Alec Clayton's delightful books. This Is Me Debbi, David rates right up there with his best work.
In addition to being a talented novelist (and painter), Mr. Clayton has for many years published astute reviews for numerous regional plays. This became evident to me while reading his latest book. While not a playwright (as far as I know), the author has created characters who truly jump off the page as though performing in a live stage production. It's a very good sign when the reader can see and hear the "actors" on each page, not to mention the vivid sets. To me, this is literary "drama" at it's best.

Beverly A. Sykes – Amazon
One of Clayton's Best
This may be Alec Clayton's best book yet. Debbi Mason is NOT a stripper, she insists; it's art. She's a fun girl, tattooed to the hilt, and unafraid of speaking her mind. She's been with David Parker for a couple of years. David, a Tulane English major is solid, predictable, and … well, kind of boring. Debbi meets Bryce, a tall, handsome, rich man who can offer her an easy life, wealth, and security. She walks out on David and moves from New Orleans to Dallas to live happily ever after. The stories of Debbi and David are told in alternating voices, following her less than happily ever after and his move to New York to pursue a career as an actor. David's story line is perhaps more fun because of the cast of colorful characters he encounters on his way to New York…and in New York, and draws heavily on Clayton's own experience as a theater critic. Debbi's is more predictable, with a few twists that make it surprising. On the whole the story is fun and so engrossing I read it almost in one sitting.

Paul Lubenkov, author of TAP DANCING ON THE RAZOR'S EDGE – Amazon
Character. Character. Character
The unique, colorful characters and dramatic interactions Alec Clayton creates in his remarkable novel "This Is Me, Debbi, David" result in a most compelling read. You owe it to yourself to open up this novel, meet this cast of characters, and travel along with them on their quixotic journeys. An engaging story finely written.

Courtney – Goodreads

I really wanted to love this book as much as I loved Tupelo. Alec Clayton is a master storyteller and this one starts off on the right foot. Set in New Orleans it starts out as a love story between Debbi, a dancer, and David, a book store clerk. Alas, they break up and go off on their separate ways and from there I lost interest in their stories.
Debi is spunky but pretty self-involved and leaves this sweet guy for an egotistical, abusive prick of a rich cowboy. All for wealth. David is then heartbroken and decides to go to New York and become an actor. He has some funny moments along the way and truly hilarious and pathetic cast characters along the way. It reminds me very much of a Walker Percy-flavored novel or little theatre play.
The ending left me pretty frustrated. Not a lot of empathy for either of them (though David was pretty sweet and funny). I'm a sucker for happy endings and depending who you are this might be one. I also got frustrated with a wee bit of sexism and machismo and overly sexual descriptions of Debi but not David.
So why 4 stars? The 9 short stories at the end are truly captivating. Clayton also reveals a flair for sci-fi meets realism in Ruination and Lila Goes to the Mall. Like didn't see it coming endings. Also he redeems himself for this reader with his strong female boxing characters in Aikiko's Last Fight.
This guy has been writing a long time. He writes because he loves to write not to sell books or get published or win Awards. If you are a writer's reader check it out.

Back to This Is Me, Debbi David