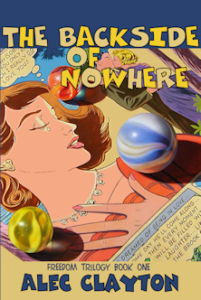 by Alec Clayton – Life and love on the bayou is generating hurricane conditions on the steamy Mississippi Gulf Coast!
The Backside of Nowhere is a drama of family conflict set in a fictional town near the Mississippi Gulf Coast.
Popular movie star David Lawrence has not spoken to his father in more than twenty years. When the old man has a heart attack while driving drunk and careens off the top of a parking garage, David leaves his girl friend and frequent co-star Jasmine Jones to go home to the little bayou town of Freedom to be with his family while the old man hovers near death. While there, he falls in love with his old high school sweetheart, confronts a lifelong enemy (the local sheriff), and discovers that his beautiful adopted sister, Melissa, is not who he thinks she is.
A hurricane is heading toward Freedom and David's obstinate old man, practically on his death bed, decides to throw a hurricane party and ride out the storm with friends. When the storm hits the Lawrence house is swept off its foundation and washed down the bayou with everyone trapped inside. It comes to rest against a pile of debris. Water fills the lower floor. David's father and Melissa are trapped underwater, and it is David and his old enemy the sheriff who must save them, which they do — barely. Afterwards they are all trapped in the house, and while confined together they confront each other with old hurts and long-buried secrets.
"… his best novel so far, and is a rollicking good read. It contains Hollywood pop gossip as well as downhome humor and veers from the ridiculous to the sublime, with strong characters and important social issues all subsumed into the plot. If you liked Clayton's other novels you should grab this one immediately. It's not just good but fun." – Larry Johnson, author of Veins
"I am sooooooooooooooooooooooooooo impressed. I read and reread sections just poring over the word pictures." – Margaret Ward, author of Crossed Roads
Read an excerpt. (PDF format)
Read the reviews.
Order The Backside of Nowhere from your favorite bookstore or Amazon.
Publication years: 2009, 2013
Trade paper, 278 pages
$12.00 Amazon ISBN: 978-0980032260
Also available on Kindle.