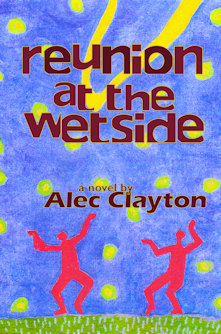 D Cloyce Smith – Amazon
Past secrets and current crimes
Now in her sixties, Alex Martin has the astonishing luck of running into her teenage crush–in a gay bar. (The description of their reunion is one of the best set pieces in the book.) Fortunately for Alex, Jim Bright turns out to be straight, unmarried, and gay-friendly–but he has a secret. And it's not that he's a diehard Republican ready to challenge anything a leftwing activist like Alex might have to say.
Alec Clayton's latest effort invites a few comparisons to his previous novel, The Backside of Nowhere. Although the setting has changed (from Mississippi to Washington State), both stories feature a couple that reunites, rekindles a romance, and looks back with both nostalgia and mortification to their high school days. In the first, a cataclysm brings things to a head; in "Reunion at the Wetside," there's a serial killer on the loose.
But where the narrative of the masterfully told Backside was focused and its characters were larger than life, Reunion seems scattered and its cast is a bit far-flung and sometimes indistinguishable. Part of the problem is the book's very structure; the faux newspaper clippings, informally chatty blog posts (with comments), and similar interpolations give the entire work a scrapbook feel, like a high school yearbook in which the memories and the jokes mean more to the participants than to the observers. In addition, there is a stridency here that is often misplaced; the stultifying political arguments over the 2008 election, while somewhat (and sadly) realistic, are overdone, and the descriptive homilies on LGBT issues and history, meant to be edifying and supportive, seem oddly defensive and discursive and resemble so much preaching to the choir.
These shortcomings and asides, however, are occasional distractions rather than essential elements of the fiction. There's far more to this book than high school memories and political arguments, and ultimately Alex and Jim–along with their unlikely (but wholly believable) adventures and romance–make up the core that holds this book together.

Amos Lassen
Someone is Killing the Drag Queens at Wetside
Here is a mystery about the strange murder of drag queens at the wetside—that part of Washington state west of the Cascades. Yet there is another mystery here and that is what happened to the review of this book that I posted months ago—it just disappeared. I was a bit upset at first and then I realized that the upside of this is that I got to read the book again and write a new review. So often on a first reading I miss things so this time I am going to be very careful. The wetside is also the name of a make-believe town and the bar that is there and too bad it is fictional because it sounds like quite the place.
Barney's Wetside Pub is where Alex Martin, a left-wing Democrat and Jim Bright, a Republican with Libertarian leanings met and fell in love. Yes, readers, politicians make strange bedfellows. Alex and Jim have been friends for 50 years but this new feeling overtakes them just about the same time that the elderly drag queens were being killed off. It seems that a serial murderer is at large. Alex discovers her high school friend, Jim and the two resume their friendship which turns into something more.
The Wetside has had drag shows for some 40 plus years and they have been very popular but now the cast continues getting smaller and smaller. Jim, himself, had been one of the stars of the show during his younger days and people still consider him something of a legend.In fact, he still enjoys wearing women's clothes. Now he might just be on the list to be done away with.
As the plot develops, we are given a history of Wetside and the Wetside and we meet the characters of the town and the denizens of the bar. There are twists and turns and surprises throughout and I must admit that this is one fun read. I do not mean that this is a comic mystery but rather this is a mystery in which the characters could be the people you grew up with; they are that real. Clayton is a master character builder. When there are political arguments, they are very real and we even get a touch of LGBT history as seen through straight Jim's eyes. You also see something about cross-dressing and transvestites.
Someone had a bone to pick at the Wetside and while the reason could come from several sources and reasons, we actually meet a wonderful cast of characters and learn a bit about human nature.

Anthony J. Adam – Amazon
Sexagenarians and Murder
Alec Clayton's fifth novel returns the action to Western Washington State, where two former high school classmates now in their late 60s meet up again and kindle a long-put-off relationship. The kicker here is that Alex (a woman, although it's interesting that she has a gender-neutral name) is a leftwing Democrat and Jim more of a Libertarian/McCain supporting conservative – who also happens to be a former drag queen who still enjoys wearing women's clothes. There's also a murder mystery revolving around the killing of other former drag queens who participated in a May Day riot at Barney's Pub (one of the local gay watering holes) back in 1970, but the mystery subplot is incidental to the backstory of the interlocking relationships between the large cast of characters. That cast can be a bit problematic at times, as many individuals appear to have no other reason to exist than to offer a bit more local color or give Clayton the chance to tell a funny story. The mystery really doesn't kick in until the final third of the novel, but that doesn't matter, as the novel's central focus is actually on how individuals discover their true selves and comes to accept and often celebrate their places in the community. An enjoyable read overall and probably fairly educational for those unfamiliar with transvestism, transexual identity, and the world of the cross-dressser.

Sandy C – Amazon
Thoroughly enjoyed it.
This is the first Alec Clayton book that I have read, but certainly won't be the last. I thoroughly enjoyed it. I bought the book because I had known Alec many years ago in Mississippi. I had no idea that he was so talented. Now I can't get them fast enough.

Van B. Cook – Amazon
This one strikes a chord
I think I was a member of that class…how else would I know the characters so well? That's how it is with Clayton's books. He develops the characters so well that you feel you know them. I have read, and enjoyed, all his books but this one strikes a chord that feels almost personal….I'm betting you'll feel the same after you've read it.

Ned D. Hayes, author of Sinful Folk – Amazon
Fun Southern, Interesting Read
Reunion at the Wetside is an interesting plunge into not only murder mysteries, but also gay murder mysteries (if there isn't such a sub-genre — there should be!) The story itself is a hoot, and Clayton brings a variety of characters to life with a lot of verve, humor, and personal insight.
I found the mystery part of this novel intriguing, and the idea that someone would specifically target drag queens was fascinating. I also really enjoyed the way that Clayton made wry observations about characters, time, and how life changes people.
I was less entranced with the way that Clayton moves blithely in and out of character's heads, losing me a few times with his POV shifts. Clayton can be confusing, but he's often worth it. Overall, a solid effort from Clayton — and his 5th novel to boot!

Holly Hunt – Amazon
Watch out! Get slippery at the Wetside!
Gotta say this: I went right to this book first thing in the morning to read more of the story, and then I went right to it when I got home from work to read more. The writer is clever and cutting-edge in tone, and the characters kept me hungry for their lives. I'd read one of Clayton's previous books, The Backside of Nowhere, and I loved it. Same thing. Had to to get to the book, had to read it until I devoured it. Clayton's novels are quirky and sharp, and the line of action within in them is ready for the Shooting Script. I love reading novels set in my home region, in the Pacific Northwest where I now live– especially when the story beats with a heart that reach into outer-space where random chunks of happenstance fly by at close range. That is what happens with this great stuff

Back to Reunion at the Wetside