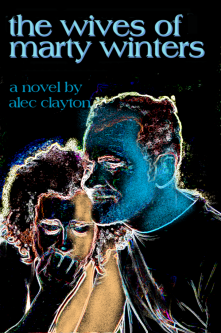 Amos Lassen
Conflicts and Memories
Selena Winters is a gay rights advocate who is shot in the head while speaking at Seattle Gay Pride. At the hospital, a blood clot is removed from her brain and her family comes together at the hospital. As they wait to see if she regains consciousness, the family thinks about the past—the conflicts and the memories they share. The name of Maria, Marty Winter's first wife was something of an obsession for him and as the family thinks of her and others, the reader is given the story of the family history.
Clayton gives us a collection of strange characters and they are what propel the novel. We are with them as they change and mature through time and it was almost as if I was reading about myself. I kept thinking—"I know that person". Clayton knows how to tell a story and his descriptions gives us mental pictures of where everything is happening. He also goes where other writers dare not go and his "in your face" candid writing and wonderful characters that are not afraid to say what they think make reading fun. There is something about subtle wit and humor that is very hard to write but Clayton does it with style. I also love the reality of what he writes and any of us who have gotten through high school and college in the 60's being somewhat different will feel right at home here (not to mention at Gay Pride celebrations).
This is the story of Marty Winters and how he "maneuvered" through life from the protesting 60's until the present and it is both an emotional and an intellectual journey. If we look back over those years, we see an America of unrest—a period when we not only had something to protest but were not afraid to do so. The period saw the beginnings of the feminist and gay rights movements and when we look at them today, it is interesting to see how far they have come. I remember being afraid to tell anyone that I was gay back then and today gay marriage has become a major political issue. The world has changed for the better but I cannot help but wonder if it would have done so without the kind of characters that Clayton writes about. Even today, it seems like he knew what was coming.

Margaret S. Ward – Amazon
Look at the words
This is the third of Alec Clayton's novels I have read; and while I can't say I always like his choice of topics, I do enjoy his writing style. His characters are vivid but above and beyond that, the settings are like scenes on a theater stage. He paints word pictures in all his work of something so simple as a rustic roadhouse or as distasteful as hate crimes that can be so vivid the reader is compelled to read farther. No topic is taboo. His writing is candid. His outspoken characters passionately display what must be his personal convictions and in the midst of this, they are not devoid of a sometimes subtle humor in a well-placed situation or a simple pun. The Wives of Marty Winters is an escape from reality to reality and provides a venue for development of personal imagery. I encourage you to see for yourself.

J.R. Callner – Amazon
Enjoyable, irreverent
I live in Olympia, WA, one of the venues for this novel. I read other books set here (like Jim Lynch's The Highest Tide) with a little apprehension, but both Lynch and Clayton's novels deliver the flavor of the community in pleasing and authentic fashion. Wives is easy to read, moves along with a collection of offbeat, imperfect characters rendered with unsentimental affection by an author who delivers time and place (and the changes of his characters through time) credibly and immediately. If you'd like a return trip to high school, the hippie days, and a journey through an unusual life somewhat accidentally lived, with quite a few laughs and some poignant loss, to boot, this is a great bet.

Amazon customer
If you enjoyed Until the Dawn
Alec Clayton's third novel is not quite up to the overall impact of his first, Until the Dawn, but it is filled with good characterization and honest, vivid detail. A little too politically correct in places, it nevertheless develops Marty's emotional and intellectual journey from the 1960s to the present with admirable candor and sometimes luminous humor. The novel confronts many of the social issues of the last 40 years, such as feminism, gay rights, and antiintellectualism with insight and conciliation but never becomes didactic. There's uninhibited sexuality here, as well as jealousy and emotional longing to sear the imagination. I recommend this book, especially if you enjoyed Until the Dawn.

Van B. Cook – Amazon
Fun to read
Although it contains its share of tragedy, the book is fun to read. By the time I finished it, I felt that I knew the characters personally. The author introduced them in a "Steinbeck" kind of way.

Diane de la Paz, The Weekly Volcano
Irresistible people
Some irresistible people showed up and took over Alec Clayton's mind.
Marty Winters; his wild wife, Maria Perez; his second wife, Selena; their kids; and some good friends: They come to life in Clayton's third novel. And beware: They'll burrow into your mind, too.
The Wives of Marty Winters opens with a stunning description of the Seattle Pride Day rally, where we meet Marty and Selena and move with them through a harrowing scene.
Then it turns far back in time to when Marty found Maria at an Olympia High School dance.
"The heart senses moments of magic," Clayton writes, putting us amid the teen-agers as they're swaying beneath a mirror ball.
Maria and Marty "slip off the dance floor … help themselves to punch and sit at one of the small tables and watch the aurora borealis cast on walls and ceilings by that magical glass ball."
So begins a saga about how the past haunts a man and how homophobia affects his family.
Wives is Clayton's heartfelt tale, a book he had to write. In it Marty and Selena's gay son is attacked and brutally beaten, but he survives, unlike Clayton's own bisexual son, Bill, who was assaulted in 1995 and committed suicide a month hence. Bill was 17.
What does Clayton hope to give the readers of his self-published book?
"Compassion," he answers without a pause.
This isn't Clayton's memoir, though. It's a novel he's worked on for two years, writing, rewriting, taking breaks, coming back.
"I reach a point where the characters are telling me what they're going to do," Clayton says. "I think about them while I'm driving, taking a bath, washing dishes … ."
A shocking crime is committed within the first few pages of Wives, and we don't learn the outcome until the latter half of the book. But this is no mystery novel. It's an odyssey across the country over a few decades. And it will ring familiar to readers, Clayton believes.
"They'll run into these people in their own families or through other people they know," he says.
Wives is overwritten in spots, but it also pulses with vivid, authentic scenes and delicious moments. The story rolls like a train through Marty's life — high school in the Pacific Northwest, Va., tours of the Mediterranean and back to the United States where he meets a girl named Marigold from a religious commune.
Clayton's other novels — 2000's Until the Dawn and Imprudent Zeal from 2004 — also unfold in various towns across America. They're informed by Clayton's own life — as a kid from Tupelo, Miss., '50s and then took off for New York City, where he worked for Everything for Everybody, an organization that provided housing, meals and clothing for the poor. He met his wife-to-be, Gabi, in New York, and together they moved back to Mississippi to start a similar operation, the Persons Service, and a literary and arts magazine. After much financial struggle, they moved to Olympia in 1988. The couple, married 33 years, are now leading activists with Parents, Family and Friends of Lesbians and Gays, or PFLAG.

Back to The Wives of Marty Winters