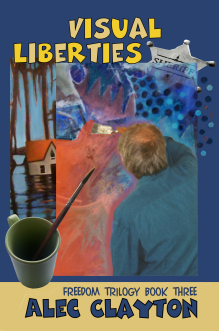 Anthony J. Adam – Amazon
Highly enjoyable finish to the trilogy
Olympia author and former Mississippian Alec Clayton concludes his FREEDOM TRILOGY with this novel set in the contemporary Gulf Coast of that state. Although many of the characters from the previous two novels (The Backside of Nowhere and Return to Freedom) make appearances, the focus this time is on the new generation as they make it through their first year of college at a fictional Mississippi University near their hometown of Freedom. Secondary plotlines tell of the marital troubles of the now-grown Bitsey and her husband, the mysterious disappearance of Weatherman Donny, the re-discovery of a reclusive painter, and the changing political landscape following the hurricane (drawn so well in the previous volume), but the central plotline follows Molly and Francis' growing relationship as college freshmen interested in becoming artists. Clayton is a good storyteller, weaving the various plot threads together, and his earlier life fishing in those parts helps the narrative come alive. As an artist himself, Clayton also gives the reader a real feel for the difficulties of the painter's life – urging the youngsters to find practical majors is excellent advice! – while poking a satiric finger at some of those who teach academic art (Norman Rockwell, indeed). If there is anything to criticize, it might be Molly's erratic knowledge of art history – aware of more modern (i.e., late twentieth century) artists than the masters of early centuries. But that's a minor point, and the curious reader might want to have a copy of Robert Hughes (or at least Google) on hand to see actual works by the (real) artists. Highly enjoyable finish to the trilogy, and a fine picture of the contemporary Gulf Coast.
Pennyart – Amazon
story continued
I've enjoyed this series by Alec Clayton. The books of this trilogy can easily be read individually. In Visual Liberties, Molly carries the central action. We follow a naive girl into college and cringe as she begins a disastrous affair with her art teacher, Darren. In and around her life are her parents and a disparate group of people who try to help and guide her; then eventually find justice. These characters are sympathetically drawn as they struggle with their own failures and successes. It's about a community of people — loving, fighting, helping, quarreling — then deciding just to get along as best they can.
Steve Clymer – Amazon
Hitting a sweet spot
I recently was in Olympia, Washington, to visit with old friends, one of whom said we ought to attend a reading that night of Alec Clayton's book Visual Liberties. So we all trucked downtown and man were we pleasantly surprised.

Having attended many book readings in the Seattle area, this one really was special. Why? In large measure due to the enthusiastic delivery by the readers. That's a really good sign for a book! They loved their reader parts, and it was clear that they think very highly of Mr. Clayton.
Well, we couldn't leave the reading without purchasing our books, talking in person to the author (a delightful man), and getting our books autographed. However, once home, my reading was postponed due to a very busy holiday season.
I just now finished Visual Liberties and have been taken back to that very special reading. As a political activist I found the book to have thoughtful inclusion of critical issues of the day including lesbian partnerships, African American issues (relating not just to the south), bullying and campus rape. Nice going Mr. Clayton! You're very much on top of it, hitting a sweet spot that encompasses both social commentary and pure entertainment!
Visual Liberties is both a page turner and a cozy read, as well as being wonderfully dialogue–driven in many scenes. The character development is truly creative; fun! I really liked this novel and give it five stars. I hope to plan my next visit to Olympia to coincide with a reading for one of this author's other books.
Susan Bowman, Amazon
I was truly sad to say good-bye
When I finished the third book in Alec Clayton's trilogy, I must admit that I had two somewhat opposing reactions. First, I was genuinely satisfied that the characters, which the author so lovingly creates, reached a fulfilling conclusion. Yet, I was truly sad to say good-bye to them. In particular, I felt this about Travis and the younger artist named Francis. I suspect these two are in fact based very much on Clayton himself.
So many characters appear in these three books. Because they interact with intensity, strife, affection and humor, each becomes memorable in some unique way. That's what makes them memorable, I suppose: they're unique folks and carefully developed. Now that's not easy to pull off, especially when decades pass before the reader's eyes. What I mean is, keeping track of the cast of characters isn't a chore for the reader, which can sometimes occur in continuing sagas. Not here, however. No, not in Freedom, Mississippi!
Clayton obviously has a strong command of art history and the contributions that have been made by scores of his favorite modern day painters. Not being an artist myself, I found his insights educational. However, even more enlightening for me—a lifelong Yankee—I have been given a new appreciation for the South with this trilogy. (And frankly, I have needed that appreciation after recent current events.)
What I found unexpectedly new about this third book was the element of mystery, and the treatment of a critical social issue. I can't say much more without giving these story elements away—so I won't—other than "well done!"
Visual Liberties was a great delight for me. And as I said, I'm truly sad to say good-bye to Clayton's wonderful characters.
Ned Hayes, author of Sinful Folk – Amazon
Love and meaning from America's own bard of the Gulf …
A sweeping family drama and contemporary parable of art, love and meaning from America's own bard of the Gulf Coast, Alec Clayton.
Grounded in Clayton's familiar world of Freedom, Mississippi, Clayton's latest novel sparkles with finely observed insight, sharp wit and complicated relationships.
Clayton has a gift for writing funny scenes, interesting quirky characters and realistic dialogue. I enjoyed this book quite a bit.
Highly recommended!

Back to Visual Liberties