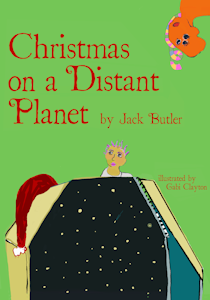 by Jack Butler – Christmas on a Distant Planet is an edge-of-your-seat young adult sci-fi story with beautiful descriptive writing and hilariously brilliant wordplay by the author of Practicing Zen Without a License and Nightshade (a tale of a vampire on Mars) and New York Times bestseller and 1993 Pulitzer Prize-nominated Living in Little Rock with Miss Little Rock. Illustrated by Gabi Clayton.
Rammy-Remmy de Remy is an enterprising young boy living with his scientist parents and little sister on a snow-covered planet in outer space. He is worried that Santa won't be able to get to Outpost in time for Christmas, so he sets off on a wild adventurous life-threatening journey to open the Gate to let Santa in.
Outpost is 39 lightyears from Earth. How can Santa cross the raw vacuum of outer space to get there in time for Christmas?
Only two brave children can help—Rammy-Remmy de Remy and his baby sister, Cassiopeia, the first human born on a planet around another star. She and Rammy are geniuses, like their parents, but there is a secret about Cassiopeia that only Rammy suspects.
The Harrakoom, animals native to Outpost, who look something like reindeer and something like centaurs, once had a thriving technological civilization. But now they have apparently turned back into snow-grazing animals, abandoning the ancient satellite they put up around their planet thousands of years ago.
Rammy and Cassiopeia's parents are scientists who are on deadline to solve the mystery of what happened to the Harrakoom. The deadline approaches without a solution, and Rammy becomes worried about whether Christmas can happen on Outpost. He decides to risk his life in the deadly snowstorms of Outpost to open the Gate so Santa can get through.
Just when things look their darkest, Cassiopeia's secret and the mystery of the Harrakoom deliver a great big surprise. Will it be enough to save Rammy-Remmy? Will there be a Christmas on Outpost? Will the mystery of the Harrakoom ever be resolved?
Christmas on a Distant Planet takes the Christmas story into the Space Age but makes it fresher and funnier and more exciting than it has ever been before.
About the author and illustrator
Jack Butler is the author of many novels, non-fiction books, short stories, essays, and poetry. His fiction/non-fiction book Practicing Zen Without a License was published by Mud Flat Press. Nightshade was chosen as one of the New NYT's best books of the year in 1989. Find out more about Jack Butler on his MFP author page here.
Illustrator of Christmas On A Distant Planet Gabi Clayton is an artist, web/graphic designer, co-owner of Mud Flat Press, red diaper baby, nontheist Quaker, PFLAG member, and pescatarian.  She lives in Olympia, Washington. She/her pronouns. http://gabiclayton.com
Gabi says: "I am honored that I was asked to illustrate this wonderful story. It was a phenomenal challenge to create art that melds my own response to this story with Jack's vision, which, after all, is the whole point of illustration."
Order Christmas on a Distant Planet from your favorite bookstore or Amazon.
Publication year: 2021
Trade paper, 78 pages
$10.00 Amazon ISBN: 979-8769750595
Hardcover, 76 pages:
$20.00 Amazon ISBN: 979-8771970226