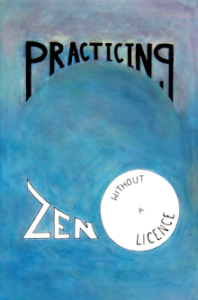 by Jack Butler – A grand and funny satire on the human tendency to indulge in stuffy metaphysics.
Like zen, whatever you expect "Practicing Zen" to be, it will be different. Think of a source-book on the origins of Zen, like the scholarly source-books that we use today to study Zen's origins in Chinese Buddhism and its coming to full flower in Japan. Such source-books are necessarily fragmentary, since much of the original writing has been lost. Now translate that source-book to the 25th century, and replace the fragments from China and Japan with fragments from the late 20th and early 21st centuries, the only remaining records of how a version of Zen (called Easy) took over the U. S. Throw in a wildly humorous and semi-science-fictional version of history, and spice it up with anecdotes about and utterances by fictional Zen masters, who quarreled among themselves.
The result is at once hilarious, serious, satirical, illuminating, and elusive but fundamental in a way that is similar to Zen itself.

Jack Butler is a poet, novelist and essayist. His novel Living in Little Rock with Miss Little Rock was nominated for a Pulitzer Prize. His poems have been published in The New Yorker, Atlantic, and New York Times Book Review. Other novels include Jujitsu For Christ and Nightshade (a vampire-on-Mars tale). Hawk Gumbo and Other Stories is his first story collection. His poetry books are The Kid Who Wanted to be a Spaceman and West of Hollywood, and he's published a cookbook called Jack's Skillet.
"Practicing Zen Without A License is a treatise of religion and philosophy as written by Kurt Vonnegut and Douglas Adams in the year 2450 AD. Or something like that. Wisdom and practicality lurk beneath the bad jokes and worse puns and purposeful disregard for convention and grammar, or as OB Wanda (Roshi) would have it, "dialect, slang, anecdotes, wild-ass metaphors, jokes, free association, word-music" – Alec Clayton
"If you do not already know how to read, please engage the module. Otherwise you will not be able to comprehend the material." – from the opening of Practicing Zen Without a License
Read an excerpt. (PDF format)
Read the reviews.
Order Practicing Zen Without a License from your favorite bookstore or Amazon.
Publication year: 2011
Trade paper, 230 pages
$12.00 Amazon ISBN: 978-1456308681
Also available on Kindle.