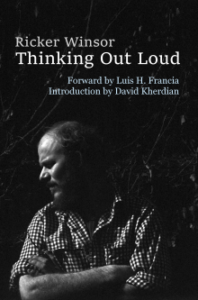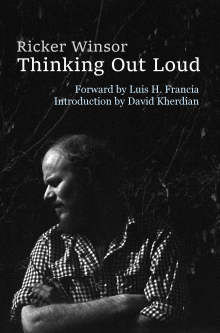 by Ricker Winsor – An exciting new collection of essays by Ricker Winsor
Thinking Out Loud is a collection of essays by Ricker Winsor, author of Mud Flat Press books Pakuwon City, The Painting of My Life and Tik Tok, Poems. The collected essays were published over the past ten years and published in various online journals and magazines.
"I don't sit down to write unless I am ready," Winsor says. "The fruit has to be almost falling into my hand. But I never have to wait long before some idea catches my mind and then I spend plenty of mental energy tossing it around until I know what to do. That is my natural way. I never stop thinking and am constantly creating sentences in my head. It has taken me a long time to understand that I do this.
"The essays in this book are just as varied as the paintings I produce and cover topics like fishing, regret, loneliness, marriage, competition, and racism, a cornucopia of concerns and experience."
Order Thinking Out Loud from your favorite bookstore or Amazon.com or CreateSpace.
Trade paper $14.50 Amazon.com 
Pages: 234
Publication year: 2018
ISBN: 978-1718617636