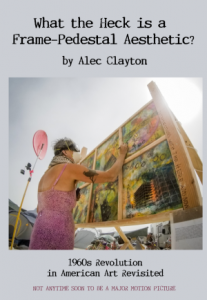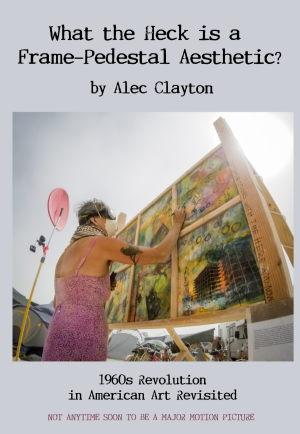 by Alec Clayton – It was 1970. For thousands of years, Western  art had consisted of pictures on walls and sculptures on pedestals meant to be admired for their beauty – the frame-pedestal aesthetic. But in the 1950s and 1960s there was a profusion of new and different happenings in the world of visual art that in many ways ended what art critics and historians had written about as an orderly, chronological evolution of European and American art beginning roughly with the Italian Renaissance and reaching its zenith with the Abstract Expressionists in New York.
Alec Clayton's 1970 graduate thesis at East Tennessee State University with the academic-sounding title, A Ground for the New Art: An Alternative to the Frame-Pedestal Aesthetic, analyzed what many at the time called the new art.
This book is that thesis with a new title and updated materials. It is an examination of the multitude of new art forms that exploded on the scene in the 1960s, from Pop to Happenings to Color Field Painting to Earth Art to Photo-Realism to mail art and more.

"A half-century doesn't diminish the value of What the Heck's lessons, beautifully realized and written."
– Becky Hendrick, author of Getting It: A Guide to Understanding and Appreciating Art
"Alec Clayton's refusal to hold an exhibition for his Master of Art degree from East Tennessee State University was a ground-breaking event in 1970. Now fifty-years later with a rich career as an artist, art critic, and novelist, Clayton revisits his master's thesis, What the Heck is a Frame-Pedestal Aesthetic?,  a critical essay about the contributions that Cage, Duchamp, Johnson, Kaprow, Pollock, Warhol, and others made to move art forward through the use of new concepts, experiences, formats, materials, and spaces for art. I especially enjoyed learning about his collaboration in a mail art piece with Richard C. and Ray Johnson." – Jennifer Olson and Gallery Director, Art Historian Tacoma Community College
Order What is What the Heck is a Frame-Pedestal Aesthetic? from your favorite bookstore or Amazon.com.
Note – We encourage our readers to ask local bookstores to order our books.
Trade paper $15.00 Amazon.com
Pages: 64 with color illustrations
Publication year: 2020
ISBN: 979-8664224030

Related blog posts by Alec Clayton:
Post-Postmodern Postscript to What the Heck is a Frame-Pedestal Aesthetic?
July 5, 2020
reassessing "the new art"
June 4, 2020