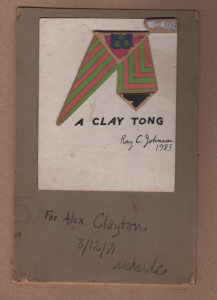 I have posted announcements of the upcoming publication of my book What the Heck is a Frame-Pedestal Aesthetic? on this blog and on my personal writing blog and on Facebook.
The book is an updated version of my graduate thesis written in 1970. I had to manually type the 50-something pages and then add a forward and an afterword to update it for the 2020s. I thought I was done, or almost done. I sent it to art historian Jennifer Olson and art writer Becky Hendrick and asked if they would read it and write cover blurbs. Both graciously agreed and did so. Artist Teri Bevalacqua allowed me to use a photograph of the billboard she created for Burning Man as a cover illustration, and my wife, Gabi Clayton, helped me design the cover. It was all ready to go except for one last proofing, and then I woke up at about 3 o'clock this morning thinking of something I just had to add to it, and I stayed awake writing and rewriting it in my head until about 5:30 when Gabi let me know she was awake too, and we both got up. Morning coffee, breakfast, and then I wrote the new addendum, which I called a Post-Postmodern Postscript.
That should clue the reader in that even though it is a serious book about art, it is not without humor. Humor, in fact, is a serious part of the art in discussion.
It is a small book, 64 pages with a dozen full-color illustrations, and I believe it is the best thing about art I've written. Jennifer Olson, Art Historian and Gallery Director at Tacoma Community College, wrote: "Alec Clayton's refusal to hold an exhibition for his Master of Art degree from East Tennessee State University was a ground-breaking event in 1970. Now fifty-years later with a rich career as an artist, art critic, and novelist, Clayton revisits his master's thesis, What the Heck is a Frame-Pedestal Aesthetic?, a critical essay about the contributions that Cage, Duchamp, Johnson, Kaprow, Pollock, Warhol, and others made to move art forward through the use of new concepts, experiences, formats, materials, and spaces for art. I especially enjoyed learning about his collaboration in a mail art piece with Richard C. and Ray Johnson."
Barring any unforeseen problems, the book should be available on amazon.com within hours or days. Watch for announcements.