They call me Mom – Amazon
Treats for your mind!!!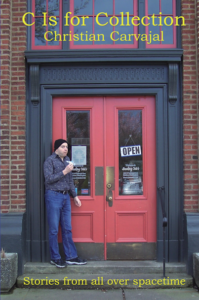 Being a big fan of Carvajal's previous works, I had high expectations of this book. I was not disappointed!! This collection of short stories is well written, thought provoking and witty. Each story takes you to a different place and time, and each is an indulgence for the mind. Science fiction, with just enough reality thrown in to make you wonder what could be going on over at your neighbor's house. Treat yourself (and your friends) to these satisfyingly delicious little treats… You will love them!!!

Alec Clayton – Amazon
If you like Ray Bradbury
The 21 short stories and one novella in Christian Carvajal's C Is for Collection are ostensibly science fiction and fantasy with a bit of horror thrown in and at least one non-genre story. There is some excellent literary fiction thrown in there as well, all dressed up in genre clothing.
These are entertaining and engaging stories, in many cases with truly surprising twists at the end and a Titanic-size boatload of clever pop culture references. Work your way halfway through these stories, which takes no time at all, and you're sure to start thinking, "This Carvajal guy would be fun to share a beer with."
The only story in the collection I did not enjoy was "Screamers," which was too weird for my taste. How many story collections can you think of wherein only one of 21 fell short of expectations? Not many, I'm sure.
"6" is a story about a woman trapped in a horrendous marriage, with enough gore to satisfy the most ardent horror fan.
"Starlight" is a touching story about a man who loves his daughter and wants only the best for her, and it offers the uplifting bit of advice that life is short, so buy good beer. In Carvajal's stories we get a lot of humor long with wisdom, fantasy and time travel.
"Blow Out the Candle" is a heartwrenching family drama set in a dystopian future.
My favorite story is "A Hard Rain (s-a gonna Fall)." In this story we go fishing in the rain with Sam who lost his son in a tragic accident and is losing his wife to divorce. Sam's grief is masterfully pictured, and Carvajal's use of simile and metaphor is as terrific as any you'll ever find.
Finally, there is "Afterwords," the novella that winds up the collection, wherein the hero (identified as the author) finds himself in heaven, and heaven is . . . well, heavenly. Better, in fact, than one can possibly imagine, which turns out to be rather boring —meaning heaven is boring, not the story. But then, as in most of his stories, something happens that changes everything.
In his opening remarks, the author acknowledges his debt to Ray Bradbury. I suspect anyone who enjoys Bradbury will enjoy C Is for Collection.

Barbara Anderson – Amazon
Every one of these short stories will stick in your …
Every one of these short stories will stick in your mind for a long time and make you re-examine what you think you know.

Back to C Is for Collection