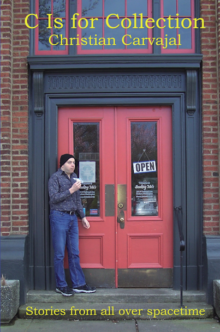 by Christian Carvajal – Mud Flat Press is proud to announce the release of C Is for Collection, .
C Is for Collection comprising 21 stories by Olympia, Washington author Christian Carvajal. It includes tales about a child with a secret, a silicon deity, a monster on the loose in medieval Paris, the inventor of time travel and a custom-made afterlife.
"After publishing novels about religion and sex, I was well into writing a book about politics," Carvajal explains. "Then America went banana boats in 2016, so I had to put that novel on hold till the country got saner than satire again. While I waited, I decided to publish my first story collection, including stories I wrote over 35 years, and get that out in time for my 50th birthday."
Carvajal is a 1993 graduate of East Central University in Ada, Oklahoma, where he earned bachelor's degrees in communications and math for secondary education. He holds a master's in theater and has directed, written or performed in stage productions across the south Puget Sound region. In 2015, readers of the Weekly Volcano voted him "Best Writer" in Olympia. He hosted a near-weekly podcast about area theater, called "Sound Stages," for OLY ARTS, the multiplatform publication for which he also served as founding, managing editor. His frequent co-host was Alec Clayton, Olympia critic, author, and co-founder of Mud Flat Press. In February, 2018, his play 3 Impossible Questions was produced by Olympia Family Theater.
"What's exciting to me," Carvajal says, "is to take a deep breath at the midpoint of my career, review where I've been and look ahead to the future, and share that with a community that's been so incredibly welcoming to me as a writer."
Order C Is for Collection from your favorite bookstore or Amazon.
Publication year: 2018
Trade paper, 208 pages
$10.00 Amazon ISBN: 978-1986947671