Beverly A. Sykes, Amazon
Like Keillor? You'll Love This One!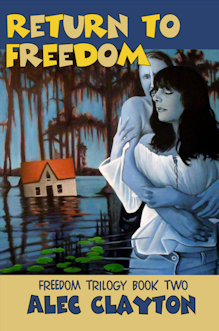 Fans of Garrison Keillor's "Lake Woebegone" stories will love this book. It has the same comfortable home-spun narrative by a writer who knows how to use words beautifully. This is Book 2 in Clayton's "Freedom Trilogy" (sadly, I did not read Book 1 first). Residents of the small Mississippi town of Freedom have been severely affected by a hurricane, which brought death and destruction, but the town rebuilds and the bulk of the book takes place a year after the hurricane and follows principally the lives of three families, who move into a newly built condo as they try to get their lives back together.
There's the movie idol coming home for a break from the hurly burly of Hollywood, the Preacher with a Past who runs a very successful group for the town's teens, a coffee shop owner who learns a lot about her sexuality, a traveler in a trailer who changes her life, a melodramatic teenager, a grieving family with an alcoholic mother, and a parade of other unique individuals.
Characters are well drawn and well fleshed out so that you really get to know them, though there are so many of them you sometimes feel like you need a cast of characters to refer to. As in Lake Woebegone, a lot of the action takes place at the town coffee shop, a good place to gossip about your neighbors. The Big Scandal doesn't take place until about 3/4 of the way through the book and while riveting, doesn't last long, but changes everyone involved.

Amos Lassen
After the Storm.
In Alec Clayton's sequel to The Backside of Nowhere, we find ourselves in the bayous of the South after a storm ravaged the town of Freedom, Mississippi. The town has been rebuilt to a degree and three families have come back and they move into anew condo. Now, I know what a hurricane can do having lived through Katrina but what these three families deal with makes a storm look like a rain shower. Sonny Staples (a hat off to Mittens?—knowing the author's writing I don't think so) and Malcolm Ashton who we met in the earlier novel and were once teen trouble are now older (middle-aged). Sonny is an evangelical preacher who likes the women and Malcolm works in a grocery and tries to take care of his alcoholic wife and raise his three children. Beulah Booker Taylor is the third and she is having a bit of trouble with defining her sexual orientation. Before we realize it, the domestic winds gather strength and a storm like no one has ever seen before is heading right for the condos.
What I really like about reading Clayton is the way he introduces us to his characters and they develop before our eyes. While he is no longer a southerner, he still has the southern knack for telling a good story with a broad cast of characters. You can almost feel the humidity as you read and as the temperature rises so does the carrying-on. I can certainly say that his depiction of the storm wrought by nature is perfect and a delight to read and as I read, so many memories returned to me. I must also admit that I was reminded of some of the stories in the Hebrew Bible, the Five Books of Moses, by reading about the dysfunctional people here. If you ever have wondered why some people get so caught up in daytime television dramas, you will soon understand as you read and face the life that the characters here face. There is a lot going on and while sometimes you do not see how everything ties together, you just need a little patience. However, the ending is open which leads me to believe that the story is not over yet and the writer is most probably working on a sequel.
Clayton gives us a look at life in the South that is not the way we usually read about things. The idea that the story basically revolves around the changes that occurred because of the storm is perfect and I remain surprised that so few books have been written about it. Since I have moved north, I am constantly surprised how little people really know about Katrina especially with all of the media coverage and the passage of blame from one to another. Even more interesting is that, in Boston, at least, people want to know and Clayton has provided me with something I can recommend—a work of fiction based on fact that shows us the storm by taking us through the lives of his characters. The title is also perfect in that as our characters return to freedom, they are aware of the high price they have to pay.

Ricker Winsor, Amazon
Alec Clayton's Rural South
I learned to love the characters and the feeling of Alec Clayton's southern world in his earlier book set in Freedom, Mississippi. Return to Freedom begins with the approach of a violent hurricane bearing down on the town from the Gulf. Clayton's description of that storm and its destruction is done with drama and beauty. You can feel it. Clayton's people grow on you as you, the reader, are brought into the family of characters making up his world. For me, a northerner who has had experience in the rural south, it was like being back there again, sitting on a big swing with 4 seats and spending time visiting with friends, drinking iced tea and feeling the breeze through the cottonwood trees. The book is not all sweetness and light, however. Clayton's description of Sonny Staples as a reformed criminal turned preacher is powerful and perceptive and cautionary. His fall and decline into madness is a warning against the dangers of religion mixed with ignorance. "A little knowledge is a dangerous thing" and that may be even more true in the realm of religion. Clayton has dealt with homosexuality in all his novels but never better than in the inchoate recognition of that fact in the relationship of Marcia and Beulah. It is handled with extreme sensitivity, a genuine celebration rather than a source of discomfort either for the characters or for the reader.

Joshua Swainston, author of Tacoma Pill Junkies, the Weekly Volcano
Clayton brings you into his world
Return to Freedom is Alec Clayton's newest novel and sequel to his 2009 release, The Backside of Nowhere.
The book centers on the town of Freedom, Mississippi: a bayou backwater that maintains a liberal attitude and history in contrast to the surrounding Deep South. The story opens with a hurricane destroying many of the buildings in Freedom. What follows is how the community survives the aftermath of the natural disaster. The residences have to redefine themselves in the wake of the many forms of loss each character experiences.
Clayton shines in Return with his ability to delve into the dynamic relationships between characters making each of them truly part of the community.
After the initial hurricane ruins a number of homes, David Lawrence, a movie star son of the town patriarch, heads a rebuilding campaign that includes the Don Booker Condominiums. It is at the condo that the majority of our characters collide. The Ashton Family, A mixed race couple struggling with the realization that their children are growing up. Buelah Booker, a single mother who questions her sexuality. And the Staples, Sonny and Bonnie.
Sonny is the most intriguing character as he is a past misfit convict turned evangelical religious fanatic. The character starts out harmless enough and even charming when he is helping save the Ashton's house cat from a tree. As Sonny's story progresses the reader gets tangled into his conflicting beliefs. Sonny spouts bible verse out the context and without much understanding. He drinks while driving and maintains a cabin outside of town for extramarital trysts. Sonny's charisma is so powerful that at times he is downright frightening.
There is an entire town of wonderfully conflicted characters, too many to outline here. The reader will have fun watching them grow around each other.
The town of Freedom becomes very real on the page and one can tell that Clayton sees every location intimately. Clayton knows every detail from the street signs to what cigarettes that Bo, the night cook at the diner, is smoking. This gives the effect that we are truly emerged in his world.
During part of the narrative the pacing is a little unusual and that can cause the reader to take pause. There are large gaps in the time line as well as a few moments of disjointed retrospect. At first are a bit jarring, but once the reader gets in sync with the rhythm of the story telling, one is able to pick up where Clayton wants you to and story regains its momentum.
Clayton has lived in Olympia Washington since 1988. His paintings have been featured all over the Pacific Northwest. He is an avid journalist and his writing can be found in The News Tribune and the Thurston Talk. Of course you can also read his work here at the Weekly Volcano in his art review column, Clayton on Art. You can keep up with Clayton at his website: www.alecclayton.com.

Ned D. Hayes, author of Sinful Folk and The Eagle Tree, Amazon
Entertaining Southern Read
Return to Freedom — Clayton's new novel — is a welcome return to the dramatic, stifling and at times destructive world of small town of Freedom, Mississippi first seen in his book Backside of Nowhere.
Clayton adroitly portrays the inner thoughts of central characters Bitsey and Malcolm, and I especially liked his treatment of the poor yet wise middle-aged mother Bitsey. It's not easy for a male author to pull off a female character with this level of insight, and I credit Clayton's long marriage for giving him some of this insight.
The treatment of Malcolm is equally satisfying, although I found the way Justin (their son) dies to be less dramatic than it should have been: in fact, I almost missed the death, and had to go back to find it. In the end, this death reverberates in interesting ways through the novel, and only the initial moment threw me.
Clayton's treatment of Sonny Staples and Beulah Booker Taylor is a little less satisfying for me, especially since Beulah's orientation and her struggle with it is obvious to the reader far before Beulah herself owns up.
However, Clayton wraps up the complicated threads of the various stories with a sure hand. Clayton has mastered the task of getting inside his characters' heads: Return to Freedom could use a bit more plot momentum, and structural editing to hone the tale to a tighter storyline, but overall it is a very satisfying read.

Gabi Clayton, Goodreads
A great read
Wow! I know I'm biased but Alec's new novel Return to Freedom is fabulous! It is a great read – and would make a great movie. It's a sequel to his fourth novel Backside of Nowhere but it can be read first. A very special character from his first novel Until the Dawn shows up in this story too. Enjoy!

Back to Return to Freedom