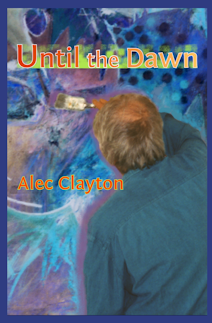 Linda Delayen – Amazon
A page-turned with poetry disguised as prose
The focal point of this amazing first novel is Travis "Red" Warner, the larger-than-life artist who hailed from Tupelo, Mississippi, a town that spawned the other larger-than-life artist, Elvis Presley. Alec Clayton's narrator is Travis' childhood friend Johnny Lewis. He takes us back in time to Mississippi 1919 to introduce us to Travis' grandparents, then his parents and finally tells the story of Travis growing up in Tupelo. Clayton does a masterful job evoking the cadences of speech and the overweening racial and social status bigotry of the place and time. "Red" Warner's nickname could have just as easily come from his burning passion for his art as from his flaming hair color. In 1970s New York art scene, Red became the darling of the critics, and when that fickle adulation ceased, he flamed out big time and disappeared. Johnny Lewis sets out to find him, and what he finds is…well, read it for yourself! There are times when Clayton's prose becomes pure poetry. This is an author with great potential. I look forward to his next!

Larry Johnson – Amazon
One Good Read!
Alec Clayton's Until The Dawn is indeed a wise, wonderful, gritty and honest book. A masterful visual artist himself, Clayton knows how to put pictures in words as well, and along with treating the reader to a moving canvas that encompasses the South of the depression and the sixties, shows us the hardass, cutthroat, coke-snorting art world of New York City in the 1980s. One example will show how good this book is as the reader sees Clayton's sexually-confused artist hero attempting "to find an abstract form that spoke of the faded, Army green aura of alcoholics sleeping on the sidewalks, ashen faces and dull, boozy-pink rims around whitened eyes." This is the real thing. Readers should grab it immediately and enjoy!

DCDG – Amazon
Stunning debut novel by a wise new voice in American fiction
Alec Clayton's skillfully-written and highly-entertaining first novel will make you very anxious to see what he will write next.
"Until the Dawn" alternates between very different places (primarily Tupelo, Mississippi, and New York City) and times (early to late 20th century), piecing together a fascinating and gritty story of the art world. As an artist, a Southerner, and a former New Yorker, Clayton knows these worlds well. But what makes this book special is the…well…FEROCITY with which it is written. It is incredibly evocative, at times shocking and at times charming and beautiful – and it all rings true.
Clayton attacks our society's foolish and tragic ills (including racism and homophobia) head-on in a richly politically-incorrect manner. It is a wonderful debut novel by a wise new voice in American fiction. As a librarian, I can assure all librarians that many a library patron will be delighted if you add this to your shelves.

Bob Appleton, author of Running Out Of Road, Amazon
Touching, moving, and a must read in today's society
Alec Clayton is a master writer. He takes us into places that we would not have experienced without his prose. I read this one fast, and now I realize that I MUST read it again! IT'S just that kind of book: you can't eat all this good food at the table in one seating. This read was different. Clayton is an excellent writer and has a way of pulling at your heart-strings. Touching, moving, and a must read in today's society.

Larry Johnson – Southern Quarterly
Powerful, gutsy and honest
In 1982 a legendary, hardriving artist vanishes from the glitzy, coke-infused New York art scene after a violent and bloody self-confrontation at a party in honor of his new exhibition. This is Travis "Red" Warner, ambivalent genius, who has taken New York by storm after appearing out of the rustic depths of Tupelo, Mississippi. But then that same rural hamlet produced Elvis Presley, so why not? To discover the whys and hows in this tale is the work of Johnny Lewis, childhood friend of Travis, who narrates most of the story through a familial investigation going back to1919 and taking in some of the major events of the twentieth century as reflected by Travis' forebears and himself. Johnny is obsessed with Travis because he has been attracted to him all his life; he is obsessed with Red Warner because of his artistic talent, and he wants to know what turned the earlier incarnation into the later. Calling most of the artists he knows "effete wimps," Red Warner says "They don't know that painting doesn't come from the eye and the hand; it comes from the gut and farther down. They don't know that the seat of art is a hard dick." Johnny Lewis understands this fully, however. He sees Warner as "the last of the agonized geniuses," and, comfortable with his own homosexuality, knows that his old friend has fought a battle all his life to come to terms with the same urges, which would seem to go against the instincts of the Travis Warner we see in his high school days as a football hero and womanizer.
Tracking Red Warner down and discovering his elder kin's histories is a problematic road trip of self-discovery for Johnny Lewis as well. In good time, though, as the narrator examines the Warner family's past, their adoption into their midst of Travis' mother, her various battles with Travis' renegade father, Travis' relationship with his "sister" Cassie, and the southern ferment of the fifties and early sixties, all seems to flow understandably into a union of manifestations that perfects the novel's plot and gives the reader a sense of grace under tension. Blooming bodily desires, racism, and rock and roll take their turns enlivening the plot, yet the writer's primary concern is to focus on the growth of an artistic imagination in such fertile ground.
In other words, Alec Clayton, native of Tupelo, Mississippi, and stunning visual artist in oil and canvas himself, has given us an excellent first novel that holds the mirror up to a Southern past many of us have lived through but is never clichéd. It also shows a New York art scene that Clayton himself witnessed in the early eighties and which his character Red Warner values as a terrible release, allowing him to come to terms with his own sexuality while trying "to build skeins of paint like the layered grit of shopping bag ladies with their many coats, to find an abstract form that spoke of the faded, Army green aura of alcoholics sleeping on the sidewalks, ashen faces and dull, boozy-pink rims around whitened eyes." Yes, those words inculcate the genius of Travis "Red" Warner, and the novel Until the Dawn makes that genius achingly clear for us, in all its pain, beauty, and wonderment. Therefore, one should fly to the nearest bookstore or computer screen to order it.
Which brings up the fact that Until the Dawn is an example of that new kind of book, the "electronic book" or "print on demand" work. One might naturally ask what it looks like, how well it's put together, etc. Is it a "real" book? Is its literary quality imaged in the format? The answer to these last two questions is a resounding yes! This is a trade paperback book and it looks as good as any other trade paperback published by any major publishing house. The cover contains a beautiful color photograph, the author's photograph appears on the back, the print is excellent and well defined on good paper and there are very few typographical errors. All that and the fact that this work never has to go out of print and can be ordered online or at any bookstore make for the wave of the future. Doubtless there will be many more works of inferior quality published in the "print on demand" format than books like Until the Dawn, but when was it ever any different with the major houses? Too many wretched novels are published every year while superior works like this one are rejected, and this reviewer therefore champions the "electronic book" as a long-needed remedy for the situation. Congratulations to Xlibris for their vision and congratulations to Alec Clayton for his powerful, gutsy, and honest novel. Is this a "real" book? Hell yes—and then some!

Lisa Cyr – Buzz24.com
Like a ride on a high speed train
In what ways do the lives of our ancestors influence the direction and focus of our own lives? What forces during your lifetime helped push you along your path? The quest for answering these types of questions may be assisted by the creative efforts of Olympian author, artist and publisher Alec Clayton as he explores the roots of artistic expression in his novel, Until the Dawn.
Alec's 30+ years of personal artistic experience has given him the energy and know-how to imagine and convey the motivations of a creative genius such as the story's central character, the chaotic art-star, Travis "Red" Warner. A childhood friend, Johnny Lewis, leads us through most Red's enigmatic life while exploring his own intertwined relationships.
Until the Dawn plows through the time both before and during Red's colorful and tumultuous existence much like a ride on a high speed train hopping between segregated Mississippi of the 1960's and modern day New York City. Alec's frank exploration of human themes such as sexuality and racism keep the reader engaged and enthusiastic while wanting even more.

kayla1080 – OnlineBookClub.org
History, art and mystery
If you are into history, art, and a mystery buff with a special interest in the South, then Until the Dawn may be worth checking out.
Red Warner, a crazy beatnik artist with varying luck in fame and fortune, disappeared one night after a party in his New York loft. There was something about wielding a knife and a lot of blood before an unknown woman showed up and he went into hiding.
Our narrator Johnny (who bought some of Red's paintings), investigates his disappearance while sharing the backstory of growing up in Tupelo. He was the next door neighbor to the Warner family, and told about his friendship with Travis and Cassie and the history of what life was like in the South from the 1960s-80s. It was pretty rough- with main themes evolving around prejudice, discrimination, sexism, abuse, injustice, racism, homophobia, religion, bootlegging, and general deep seeded values in the South. Women and colored people were treated horribly, and it didn't help that Johnny was gay in a period where that was really not accepted. Tragedies and the dark underbelly of Tupelo surrounds how the present is related to the past.
Johnny focuses on Travis and their life growing up. He talks about the condemned kids from high school- Wendy, Raymond Carver, Sam, Josh Culpepper, and Cassie, and how Travis seems to be the only one with a moral compass. As time goes on, the sensitive and talented Travis gets into beatnik poetry and disappears after high school. There's some confusion about that part, but it's assumed that he ends up in New York somewhere.
This is a dark mystery of a missing artist with a backstory that spans over 3 generations. It would have been helpful to see a family tree to keep track of everyone. I thought that Until the Dawn was well-written and engaging, with lots of action, but it was easy to get confused on the characters and there were some uncomfortable scenes.
It kind of gave me the feeling of that coming-of-age movie, Stand By Me, but a lot rougher and written in a Southern drawl, with art and culture references Dean Moriarty and Jackson Pollock. I liked it, and rate this book 2 out of 4 stars. I would recommend Until the Dawn to anyone interested in mystery.

Back to Until the Dawn