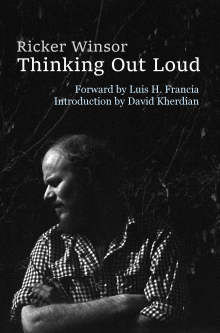 Expatriate and world traveler Ricker Winsor has brought long years of experience to bear in this collection of short essays, most of which have been published at Reflets du Temps in Paris over the last ten years. An artist and writer, Winsor contemplates a cornucopia of interests and concerns including fishing, art, loneliness, and marriage. He writes and paints in Indonesia where he lives with his Chinese Indonesian wife, Jovita, and two dogs, Sniper and Nana.
From the introduction by David Kherdian: "Ricker Winsor is a committed artist, an investigative thinker and truth seeker, whose abiding territory is the arts, which includes social movements, causes, and practices: corollaries that are also leading mankind toward equality, liberation and truth. By putting himself under what he is looking at he draws us inward to see what he sees, to learn from his experiences and the subjects under his study. He is a student of life, in particular a directed life that is both used and formed by art."
There are essays on fisherman Catskill Bill, expatriation, Trinidad, Indonesia, racism, loneliness, "The Persistence of Ignorance," teaching, art, and more.
Order Thinking Out Loud from your favorite bookstore or Amazon.
Publication year: 2018
Trade paper, 240 pages
$14.50 Amazon ISBN: 978-1718617636