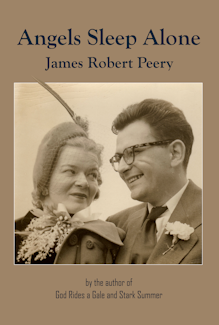 Mud Flat Press is thrilled to announce the publication of Angels Sleep Alone by James Robert Peery. Peery was my uncle and perhaps the person most responsible for inspiring me to become a writer. We've been working on it since July 2020 when his granddaughter sent us the manuscript. It was typed on a manual typewriter, yellowed with age, with hand-written edits. As soon as I read it, I knew it should be published.
Peery's earlier novels, Stark Summer and God Rides a Gale (Harper & Brothers 1938 and 1940 respectively, now out of print) were bestsellers in their day. Peery also published dozens of detective stories and other works under the pseudonym Carl Buchanan, including three crime novels published in the UK; a humor column under the pen name Jim Purg, and other works under various pen names.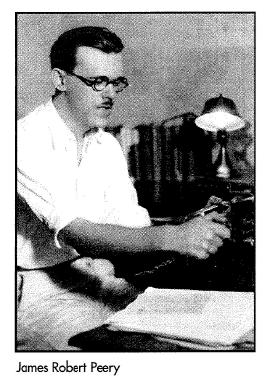 Uncle Jimmy died in 1954 at the age of 54, leaving behind this unpublished novel. For sixty-six years Angels Sleep Alone was kept first by his daughter, Suzanne Schutt, and then by his granddaughter, Anne Peery Schutt Turner.
It's 1942. War rages in Europe and Japan. Journalist and radio celebrity Bob Sessions sees the woman who will change his life—the daughter of a "Holy Roller" preacher from rustic North Mississippi. Angels Sleep Alone is a poignant, dramatic, and funny novel of love found and lost and found again in wartime America, and of a different kind of war—class war—in the fictitious capital city of Madison, Mississippi.
New York Times critic Margaret Wallace wrote of God Rides a Gale – "The characters—although they become, in Mr. Peery's hands, both interesting and important—are actually such a gallery of grotesques as could not be matched outside the pages of Faulkner or Caldwell . . . a remarkable study of human aspiration and self deception."
Angels Sleep Alone is a love story and an exposé of the manners and conventions, the casual racism and misogyny, and the stultifying classism of the era.
Now Angels Sleep Alone rises.