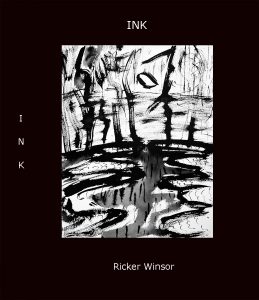 by Ricker Winsor – Winsor describes Ink, a book of poetry and drawings, as "the best of my drawing over forty-five years."
"Using reed pens, ballpoint pens, and brushes, I made the effort over all those years to get out into the world and make my mark. I believe drawing is the purest way to respond directly to the landscape, to our life. It communicates what we are feeling at the time; the drawings reflect those feelings."
Ink features about 150 drawings plus captions and short prose. Two essays are included: "Drawing and Wabi-Sabi" and "What I Know about Art." They have both been published in various places and the latter was featured in the Rhode Island School of Design magazine, XYZ.
Winsor is an ex-pat living in Indonesia with his Chinese Indonesian wife, Jovita, and two dogs, Sniper and Nana. This is his eighth book. He writes, paints, draws and teaches English to advanced students in China. He also plays chess.
"I just got my copy of INK by Ricker Winsor. It is great. Forty-five years of drawing with more than 150 ink drawings, two essays, and a few poems. Many of the drawings are scenes of places he has lived or visited all over the world including NYC, Paris, Bali, Indonesia, Vashon Island, New Hampshire, China, etc. The drawings are strong, simple, and utterly without pretension. If you love drawing, get this book. You will treasure it." – Alec Clayton
Order Ink from your favorite bookstore or on Amazon.
Publication year: 2020
Trade paper, 254 pages
$35.00 Amazon ISBN: 979-8566060019