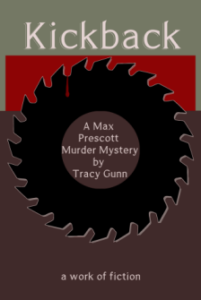 by Tracy Gunn – High school senior Max Prescott has been grieving the death of his girlfriend for a year. He wants nothing more than to be a hermit, living in his uncle's mountain cabin just outside Olympia, Washington. The students at Capital High School are divided, and violently so, over a proposal by a wood products factory to build a new plant in town. Student Body President McKenzie Nakamura asks Max to help her keep an eye on the student unrest.
When Max discovers a dead body in the wood shop, the police conclude it was an accident. Max soon comes to the conclusion that it was murder. Max finds his role as undercover detective takes his mind away from the accidental death of his girlfriend. Meanwhile the murder plot thickens at every turn.
Will Max identify the killer? Will he survive the torturous events he encounters along his investigative journey? And will his new girlfriend leave him when his secret past is revealed? Read Kickback and get the answers as the shifting evidence is uncovered.
All money from sales of Kickback will be donated to PFLAG-Olympia.
Review by Judy – Amazon
You might think you know who is talking but, do you really?
"Twists and turns that kept me reading. Super ending."
Order Kickback from your favorite bookstore or Amazon.
Publication year: 2019
Trade paper, 248 pages
$15.00 Amazon ISBN: 978-1799042303