In these two Mud Flat Press events, each writer will have a short time to talk, and then there will be time for comments and questions from participants.
There are thirty-one stories by nineteen writers in our new anthology Mud Flat Shorts (mostly fiction) with stories of love and of war, sci-fi tales, stories of death, of remembrance, and more by these storytellers — from bestsellers to first-time published writers:
Dawud H. Al-Malik
Jenni Prange Boran
Jack Butler
Christian Carvajal
Alec Clayton
CK Combs
Keith Eisner
Ned Hayes
John Knold
Megan Kruse
Meenu Mudhavan
Shree Nath
Anne Nayer
James O'Barr
James Robert Peery
Jes Simmons
Samuel Snoek-Brown
James P. Stuart
Ricker Winsor
Join us

!
Thursday, September 29, 6:00 – 8:00 PM – Pacific time
and/or Saturday, October 1, 4:00 – 6:00 PM – Pacific time

Mark your calendars now! You can join us on either or both dates. The authors will be doing this too.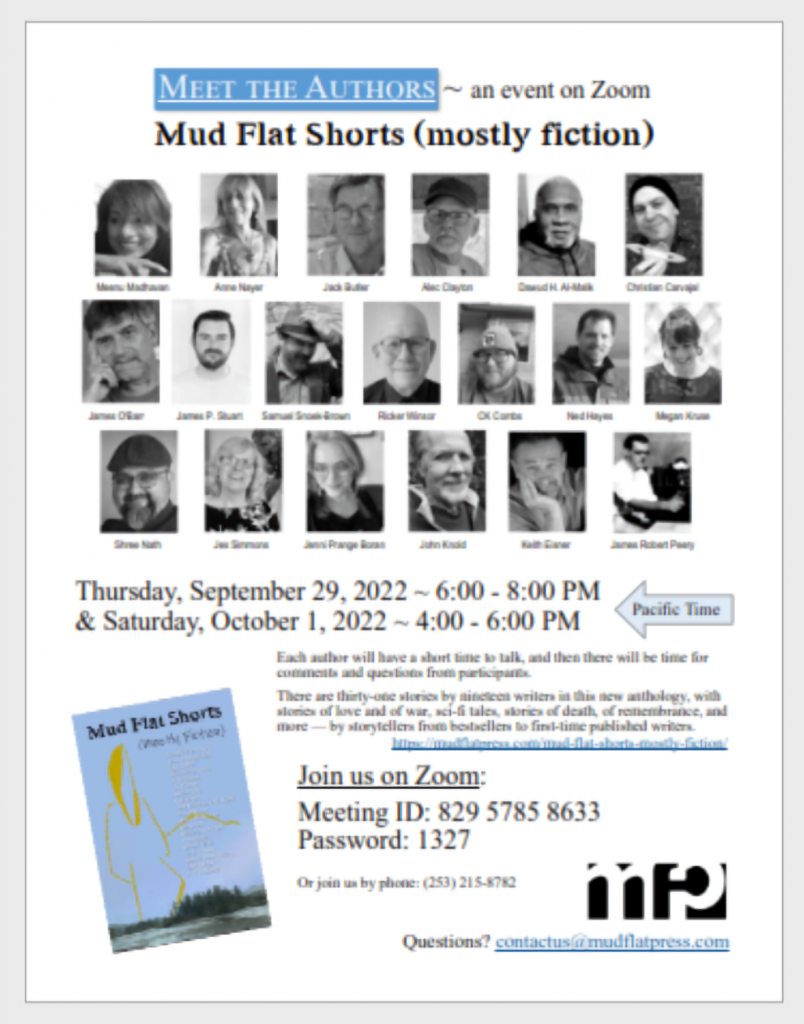 Join Zoom Meeting: https://us02web.zoom.us/j/82957858633?pwd=UXBXV1FScGtUN1ByOWt3REFrd0prQT09
Meeting ID: 829 5785 8633 / Or join by phone: (253) 215-8782
<– Download this event flyer to share. (PDF format)
Questions? Contact us.