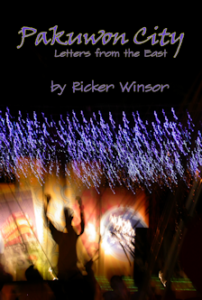 by Ricker Winsor – A new voice from the hills of Vermont gives us a window into the hearts and minds of men and women the world over. Ricker Winsor's journey of self discovery takes us across the North Atlantic to Europe by ship and by motorcycle to Africa in search of hashish and adventure. As a young man in Mexico and as an aging man teaching in Bangladesh and Indonesia he writes about school, monasteries and whorehouses with equal sensitivity and honesty.

Ricker Winsor has worked as a photojournalist, as a cabinetmaker, as a teacher, and as an exhibiting landscape painter. He is also a professional musician performing in cafes and clubs for over twenty years.
Includes 14 pages of photographs!
"Ricker Winsor is a force of nature — photographer, cabinetmaker, musician, writer, painter, fisherman, golfer, squasher, indefatigable lover, Catholic mystic and pretty good cook." – Ken Rower
"A profound journey through life." – Deborah Jacob
Read an excerpt. (PDF format)
Read the reviews.
Order Pakuwon City from your favorite bookstore or Amazon.
Publication year: 2010
Trade paper, 168 pages
$12.00 Amazon ISBN: 978-1456305840
Also available on Kindle.