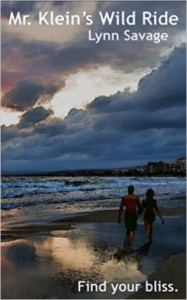 by Lynn Savage – Gary and Summer Klein shake things up at Bliss Panerotic, a sexy new theme park in Southern California.
Mr. Klein's Wild Ride is the tale of Gary Klein, a marketing guru who accepts the job of brand manager for a sexy new theme park . . . at which point his life and his marriage spin into chaos. His tragicomic downfall culminates at Bliss Panerotic, a paradise for lovers and a feast for the senses. It's an island playground for couples whose lust for adventure knows no bounds. Mr. Klein's Wild Ride is a satire that calls to mind Jurassic Park and Exit to Eden, yet merges its own cutting-edge technology with polyamorous sexuality.
Michelle Malkin claims I wrote the line, "What happens in Vegas stays in Vegas." Don't I wish! No, a Vegas ad agency, R&R Partners, devised a similar slogan for a convention, then spent years fighting a competing claim from a lady in California who used the more familiar version on T-shirts. I did write, "I'm bored. Let's get naked and see what happens," which lured tens of thousands of red-faced visitors to Bliss Panerotic. It may have even lured you. If so, you're welcome or I'm sorry, whichever you find most appropriate. – Gary Klein in Mr. Klein's Wild Ride
Read an excerpt. (PDF format)
Read the reviews.
Order Mr. Klein's Wild Ride from your favorite bookstore or Amazon.
Publication year: 2016
Trade paper, 290 pages
$12.00 Amazon ISBN: 978-0692759028
Also available on Kindle.