Two of our much-loved Mud Flat Press writers are expatriates—Ricker Winsor, originally from New York and now living in Surabaya, Indonesia with his Chinese Indonesian wife, Jovita and two dogs, Sniper and Nana; and Anne Nayer, also a New Yorker, a life coach in the Virgin Islands for the past 35 years.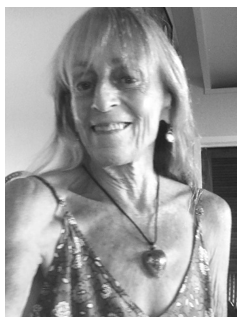 Anne lived and worked with Gabi and I and others in the 1970s at an organization called Everything for Everybody which published an alternative newspaper, provided meals and shelter and clothing for the needy, and more. In the early years, the live-in staff slept on mattresses on shelves in a back room. Later we moved into a loft around the corner where we sheltered up to 50 people a night.
Gabi and I left EFE in the summer of '77 shortly before Elvis died. Anne left a few years later.
About 40 years after we last saw each other, we found each other on Facebook where we have built a new kind of friendship. An artist and writer now, Anne was writing a memoir in short segments and posting them on Facebook accompanied by delightful drawings (she studied art with Wayne Thiebaud). These autobiographical tidbits were so poetic and delightful and shamelessly honest that we asked her if we could publish a few of them in the anthology Mud Flat Shorts (mostly fiction) which she graciously allowed. She will also have at least one poem and maybe more published on the poetry pages coming soon on the Mud Flat Press website.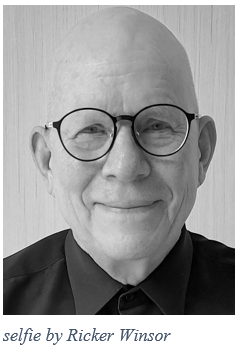 When I first met Ricker, he was the chair of the department of art at a private high school in Tacoma, Washington and I was writing art reviews for local publications. Ricker is the son of famous soap opera producer and writer Roy Winsor, who also produced the radio show Have Gun – Will Travel and episodes of TV's I Love Lucy. Like Anne, Ricker Winsor has a couple of autobiographical short stories in Mud Flat Shorts and will have poems on the website's poetry pages.
Ricker has done everything and been everywhere. As a professional photographer, his celebrity photos of the likes of Janice Joplin have appeared in major magazines. In his youth, he hung out with some of the first-generation abstract expressionists, including Willem de Kooning and Herman Cherry. He toured both Europe and South America via motorcycle, His poems and essays and memoirs, and even his drawings and paintings, draw extensively on his worldly travels, all of which are published by Mud Flat Press. His books are:
Pakuwon City – Letters from the East
The Painting of My Life
Thinking Out Loud
Tik Tok: Poems
Francine
Everything in its Season
Poetry
Ink
Oil Paint: A Journey